The latest LNG news
Santos has announced that it has formed a strategic relationship with existing shareholders ENN Group and Hony Capital.
Golar LNG Ltd's stock ended 19 June's session 1.53% lower at US$21.24.
---
The Panama Canal Authority has released a statement celebrating the one-year anniversary of the inauguration of its expanded canal.
---
---
Upcoming LNG events
12 Jul 2017 - 14 Jul 2017
Indonesia
05 Sep 2017 - 08 Sep 2017
United Kingdom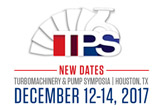 12 Sep 2017 - 14 Sep 2017
United States