---
Gordon Cope, contributing editor, asks if the good times will last for European LNG importers.
These are happy days for European gas consumers. The Dutch front month gas price (TTF) hit an historical low in June 2019 at US$3.20/million Btu. One year ago, gas was trading as high as US$9/million Btu.
The price war has been instigated by too many sellers and not enough buyers. Europe's gas demand peaked in 2011 at 500 billion m³, but slumped to under 400 billion m³ by 2014 due to slower economic growth, enhanced competition from renewables, flat electricity consumption, and (until recently) high natural gas prices. Consumption has risen since then, and the continent uses approximately 475 billion m³/yr.
Russia has been the big conventional supplier of gas to the EU, mainly through Ukraine pipelines, the Yamal pipeline through Belarus, and Nord Stream under the Baltic Sea. Slightly over 200 billion m³/yr is delivered by Gazprom.
But LNG has introduced a host of new competition. Europe has 28 large scale LNG import facilities located throughout the continent that normally operate well below capacity of 163 million tpy; in 2018, the EU imported approximately 50 million t. Qatar traditionally supplies almost half; the rest is made up from supplies from Algeria, Trinidad & Tobago and Nigeria.
Thanks to an abundance of inexpensive shale gas, however, the US has been building LNG trains in Texas and Louisiana at a blistering pace. Cheniere, a pioneer in the US LNG sector, has 3.5 billion ft³/d operating in its Sabine Pass terminal in Louisiana, and recently announced that it will build a sixth train. Thanks to Cheniere and other companies, the US exported 5.2 billion ft³/d of LNG at the end of 2018, and it is expected to rise to 10.3 billion ft³/d by the end of 2020.
Qatar, which has plans to increase its capacity from 77 million tpy to over 100 million t, has no desire to lose market share and is competing against the US upstarts. Russia, for its part, has also brought its Arctic-based Yamal LNG online, and wants to gain a bigger foothold in Europe.
And, if that does not make gas consumers happy enough, work is more than half complete on the Nord Stream 2 pipeline. The project aims to double the capacity of the line that runs under the Baltic Sea from Russia to Germany. When it is finished, the new 1200 km line will double the system's total capacity to 110 billion m³/yr.
Complications
The US worries that Nord Stream 2 will give Russia expanded leverage over energy supplies in Europe. Germany has remained firmly in support of the project, but has expressed an interest in diversifying sources, including building LNG import terminals and signing deals with US LNG suppliers.
In March 2019, the Danish Energy Agency placed a new obstacle in front of Nord Stream 2 when it requested that Gazprom examine a new route through the country's waters, citing environmental and safety considerations. Gazprom has elected instead to change the route to avoid further significant delays.
The US is still upping the heat. In May 2019, a bipartisan bill was introduced in the US Senate that would place harsh economic sanctions against entities involved Nord Stream 2. Germany wants the pipeline so that it can reduce coal and nuclear power and distance itself from the squabbles between Russia and other countries regarding gas transit rights, however. Speculation among stakeholders is that the Trump administration will continue to threaten sanctions against the Nord Stream 2 pipeline, but not formalise them, due to the downside of alienating ally Germany and major investors. Rather, they will encourage delays to construction, as well as diversification of supply.
This is an abridged version of an article that was originally published in the August 2019 issue of LNG Industry. The full version can be read here.
Read the article online at: https://www.lngindustry.com/special-reports/13082019/a-reason-to-celebrate/
You might also like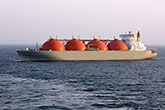 Following an earlier newbuild programme in June 2022 for four new vessels, the company has now been awarded the contract to supply reliquefaction systems for a further eight ships.