---
Wood Mackenzie has released a statement looking at the dynamics of Russia's future relationship with the European gas market.
In the statement, the consultancy claims that the continent's gas import requirements are continuing to increase as its indigenous production declines. Wood Mackenzie believes that, by 2035, Europe will need to import approximately 400 billion m3/yr of gas in order to meet demand. This up from approximately 310 billion m3 in 2019.
Although piped supplies from North Africa and Central Asia will provide approximately 50 billion m3 in 2035, Wood Mackenzie claims that the other 350 billion m3 will be sourced through a combination of piped Russian supply and LNG from both Russia and other producers.
With limited room to increase piped supplies from non-Russian gas producers, Wood Mackenzie claims that Russia will try to grow its footprint in the European gas market, utilising its enormous, cheap resource base and strategic geographical location. However, the consultancy adds that European gas market dynamics are changing, and it is increasingly difficult for Russia to compete.
Kateryna Filippenko, principal analyst, Global Gas Supply, at Wood Mackenzie, said: "A wave of LNG has arrived. European LNG imports over the first five months of 2019 are up 50% year-on-year already. Net LNG imports into Europe will grow to 71 billion m3 in 2019 from 32 billion m3 in 2018.
"Flows will build into 2020 as US LNG startups continue, and we expect a record number of global LNG FIDs this year. These will underpin another wave of LNG in the mid-2020s, competing with Russian piped gas for market space.
"Russia will try to increase piped gas exports to Europe, but a mix of market, regulatory, political and corporate challenges will prevent new pipeline construction beyond Nord Stream 2 and TurkStream."
According to the statement, Russia will maintain its goal of developing additional direct export routes into Europe as it sticks to its strategic plan of bypassing Ukraine. However, unified support from Europe will be required in order for Russia to proceed with the construction of new pipelines. As a result, it is unlikely that such new pipelines will be built.
Filippenko added: "Infrastructure availability will be crucial to meet European demand.
"Ukraine transit will be vital for stable and flexible supply into Europe in the near-term, particularly during seasonal demand peaks, maintenance periods and ramp up of new pipeline infrastructure. Ukraine transit will also help Russia increase piped supply post-2030."
Russia is the biggest supplier in the European gas supply mix, with Wood Mackenzie claims that the country's market share grew from 32% in 2015 to 37% in 2018 – and this is only piped gas. According to the statement, Gazprom is planning to maintain this above 35% through to 2035, which could make up approximately half of Europe's total gas imports.
However, Wood Mackenzie notes that it is likely that Russia will aim much higher. Although Gazprom is capable of utilising its pipe network and Ukraine transit to grow exports even further, significantly increasing them will require new export capacity. The consultancy asks, "Is LNG the way to go?".
Filippenko said: "Russia is likely to review its traditional, pipeline-based export model, and turn to LNG instead, at least for supplies to Europe. It will use LNG to grow its position in both the European and global market."
Due to its flexibility, Russian LNG, unlike piped gas, is not as likely to be met with objections from Europe. As Wood Mackenzie explains, the liquefied fuel provides an opportunity to quickly respond to price and market signals and access more markets, both in and beyond Europe – especially a premium Asian market. Wood Mackenzie claims that this is absolutely key given the current decarbonisation and diversification efforts occurring in Europe. Increasing Russia's export capacity through the development of LNG will be competitive on a cost basis against new pipes and competing global LNG projects.
The consultancy goes on to note that the Russian government has a number of plans in the works for its LNG industry. Reportedly, the country is aiming to produce approximately 120 million tpy to 140 million tpy of LNG by 2035, which would make it one of the top three LNG exporters in the world with up to 20% market share. Currently, the country's share of the global LNG market is only 8%, but increasing nonetheless. Indeed, Wood Mackenzie notes that Russian LNG exports into Europe for 1H19 total 8 million t. This makes it the second largest supplier after Qatar.
If we assume that Russia maintains 60 billion m3 of Ukraine transit capacity and goes on to develop new LNG projects, Wood Mackenzie claims that its export capacity available to Europe will grow by approximately 80 billion m3 between this year and 2035. This will reportedly almost match the increase in Europe's import dependency.
Filippenko added: "Opting for additional LNG rather than new pipeline projects will mean less direct tax revenue for the government and a potential revision of Russia's traditional export approach. And more work needs to be done encouraging cooperation between the country's leading oil and gas companies to support this.
"But LNG will ensure alignment with a range of governmental strategic goals and broaden Russia's reach into new markets. It will allow to monetise giant gas reserves in an optimal way while derisking against European decarbonisation and diversification efforts."
Read the article online at: https://www.lngindustry.com/regasification/22072019/russia-looks-to-maintain-position-as-europes-gas-market-changes/
You might also like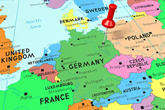 EnerMech and Offshore Technical Services have expedited the initial phase of a vital LNG import project in Germany, enhancing energy security and addressing the broader European energy crisis, with their services contributing to the successful completion of the project's construction phase at the port of Brunsbüttel.