---
Changfeng Energy Inc. has announced that its trial run of an LNG shipment from Canada to China using ISO-containers has been successfully completed.
The LNG shipment from the Vancouver port was organised by the Chinese energy provider and arrived at the Shanghai port on 8 November 2018. According to the statement, it has now cleared customs.
Changfeng claims that it procured the LNG from an energy provider based in British Columbia (B.C.), Canada. Sanya Changfeng Offshore Natural Gas Distribution Co. Ltd, a wholly owned subsidiary of Changfeng, is the importer into China.
In the statement, Changfeng claims that the LNG received in Shanghai will be sold to Hebei Riheng Clean Energy Ltd, which is a controlled subsidiary of Changfeng. Then, it will be transported to Hebei to support the LNG distribution services of Riheng Energy to areas where pipeline gas is not accessible.
Changfeng claims that it had acquired an export order from the Canadian National Energy Board for the LNG export and Sanya Changfeng had received all of the necessary permits for the LNG import into China.
According to the recent energy reform policies of the Chinese government, the country is increasingly relying on natural gas as the source of energy consumption, rather than coal. In particular, Changfeng has observed that, in the winter months due to higher demand for natural gas required for heating, the availability of natural gas may be lower and trucked LNG prices may increase.
Based on estimates from Wood Mackenzie Ltd, trucks carried approximately 19 million t of LNG to customers last year, which accounted for 12% of China's overall LNG consumption. Furthermore, unlike the market price of pipeline gas, which is regulated by the Chinese government, LNG prices are relatively deregulated and market-oriented. Accordingly, Changfeng claims that it has been looking to broaden its supply base beyond China to sources such as Canada, in order to benefit from opportunities in respect of LNG supply. As a Canadian-listed energy company operating in China, the company claims that it recognises the potential synergy of Sino-Canadian energy trade and natural gas supply, and has taken steps such as the aforementioned trial run LNG shipment to strategically position the company to seize such opportunities.
Read the article online at: https://www.lngindustry.com/lng-shipping/14112018/changfeng-completes-trial-run-of-lng-shipment-from-canada-to-china/
You might also like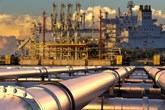 At every stage of the LNG process – from pretreatment to transportation – accurate and reliable measurements are essential for optimising production, maintaining safety, and ensuring profitability.