---
The Grain LNG import terminal in the UK has announced that up to 350 GWh/d (8.3 million tpy) of redelivery capacity, 390 000 m3 of associated storage and over 100 berthing slots could be made available at the terminal in 2025.
According to the statement, the capacity on offer consists of both newbuild and existing capacity, which comes out of contract in 2025. The expansion will increase the size of the terminal to approximately 1.2 million cubic metres.
Nicola Duffin, Commercial Manager for Grain LNG, said: "Grain already has the largest storage tanks in Europe, which offer our customers the flexibility to store their LNG and optimise send out in response to market prices. With the expansion of Grain we will further optimise our existing assets, which means we'll be able to be more competitive than typical newbuild capacity.
"We're also ideally located in the South East of the UK, so tariffs to NBP are very favourable. Our customers benefit from the short haul tariff to the IUK and BBL interconnectors, allowing them to easily move gas to other European price hubs such as TTF. We have two entry points to the NBP, a high-pressure entry point and a low- pressure entry point that offers our customers further savings on entry costs and a much lower minimum send out requirement compared to competitors."
In the statement, Grain claims that it could also benefit from proposed changes to the gas specification rules in the UK, which would significantly reduce variable costs for LNG shippers. The UK's Wobbe Limits currently require certain sources of LNG to be blended with nitrogen in order to meet UK gas specifications. Plans are currently underway to increase these limits, which could come into force by April next year as part of the Gas Safety Management Regulations (GSMR). Proposals call for the Wobbe Limit to be changed to 52.85 MJ/m3. According to the statement, this limit would allow all but rich LNG to enter the grid without blending.
Duffin added: "LNG would be subject to lower processing and variable costs. Lower costs will make the UK a more attractive destination for LNG, which ultimately benefits UK energy consumers."
The terminal offers additional services, including reload operations, transhipments, and a multi-bay facility for reloading road tankers, and ISO containers. In addition to this, a marine breakbulk facility is planned for 2021/2022. According to the statement, the Grain terminal is the UK's only terminal that offers small scale solutions to the market.
Read the article online at: https://www.lngindustry.com/regasification/09052019/grain-lng-terminal-to-offer-cost-competitive-capacity-to-the-market/
You might also like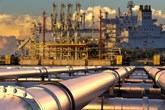 At every stage of the LNG process – from pretreatment to transportation – accurate and reliable measurements are essential for optimising production, maintaining safety, and ensuring profitability.