Macquarie Capital and WaveCrest help deliver Germany's first privately financed LNG terminal
Published by Abi Larkin, Editorial Assistant
LNG Industry,
---
The 'Deutsche Ostsee' LNG import terminal, supported by Macquarie Capital, the corporate advisory, capital markets, and principal investment arm of Macquarie Group, has now received its operating licence. The project will play a critical role in supplying natural gas to Germany for this and future winters, with capacity to supply up to 5.2 billion m3/y of natural gas, equivalent to 5% of German domestic gas consumption in 2021. Deutsche Ostsee, which delivered first volumes of natural gas earlier this month, was developed by Deutsche ReGas, and is Germany's first privately funded LNG terminal.
Macquarie Capital and its 100% owned portfolio company, WaveCrest Energy, supported the project with two rounds of investment into Deutsche ReGas. In addition to providing development and construction capital to the project, WaveCrest integrated with the Deutsche ReGas team to help bring the terminal to successful completion by providing critical technical, operational, and commercial capabilities.
Following this support, the first phase of the terminal project, a FSRU, small LNG shuttle vessels, and other associated infrastructure, are in the final stages of commissioning. The project utilises existing port and natural gas network infrastructure to minimise its direct environmental impact.
The German government is committed to diversifying its natural gas supplies, ensuring energy security and reliable access to natural gas – and the Federal Chancellor, Olaf Scholz, and the Parliamentary State Secretary for Economic affairs and Climate Action, Michael Kellner, attended the opening ceremony of the project. Last year, the German government passed the LNG Acceleration Act to accelerate the deployment of LNG regasification terminals in the country.
Macquarie Capital and WaveCrest will continue to look for further opportunities to work with Deutsche ReGas as the business looks to more than double the Ostee terminal's regasification capacity by 2025. Deutsche ReGas is currently planning to install a second floating LNG terminal by the end of 2023 which, alongside a number of potential capacity upgrades, could increase import capacity up to 13.5 billion m3/y of natural gas. This would make the potential import capacity of the terminal equivalent to over 14% of Germany's 2021 domestic gas consumption and over a third of Germany's forecast LNG import capacity in 2024.
"We would like to thank Macquarie Capital and the WaveCrest team for supporting our project. With their expertise, they played a significant role in enabling us to officially open the LNG terminal on 14 January. We hope for a further successful co-operation," said Dr Stephan Knabe, Chairman of the Supervisory Board of Deutsche ReGas.
"By working with Deutsche ReGas, we have helped develop a vital new energy supply solution for Germany. In these challenging times, we need sustainable, pragmatic, and timely energy solutions, and we will continue to look for opportunities to support other important energy projects like 'Deutsche Ostsee'," said Nicholas Gole, Senior Managing Director at Macquarie Capital.
"WaveCrest Energy is pleased to be part of such a technically challenging and economically important project for Germany. We are well-positioned to provide smart capital to projects by combining the strength of our owner, Macquarie Capital, with our team's industry-leading expertise," stated Rob Bryngelson, WaveCrest CEO.
Read the article online at: https://www.lngindustry.com/liquid-natural-gas/30012023/macquarie-capital-and-wavecrest-help-deliver-germanys-first-privately-financed-lng-terminal/
You might also like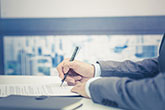 In its efforts to further boost natural gas utilisation in the country and enhance Nigeria's gas revenue, NNPC Ltd has signed two major agreements to deliver LNG to the domestic gas market and the international LNG market.