US and India lead newbuild capacity growth in global LNG liquefaction and regasification industries
Published by Will Owen, Editor
LNG Industry,
---
The US and India are expected to lead capacity growth in the global LNG liquefaction and regasification industries from planned and announced (newbuild) projects, respectively during the outlook period 2019 – 2023, according to GlobalData.
The company's report 'Global LNG Industry Outlook to 2023 – Capacity and Capital Expenditure Outlook with Details of All Operating and Planned Terminals' reveals that the US will lead globally in both capacity growth and capital expenditure outlook on planned and announced liquefaction terminals during the outlook period.
The country's new-build liquefaction capacity is expected to grow from 26.1 million tpy in 2019, to 210.3 million tpy in 2023. Of the total capacity expected to come online in 2023, 94 million tpy is expected to come from planned projects that have received required approvals for development while the remaining 116.3 million tpy could come from early-stage announced projects that are yet to receive any approvals for development.
After the US, Qatar and Canada rank second and third, with capacities of 32 million tpy and 29 million tpy, respectively, from newbuild liquefaction projects in 2023.
Soorya Tejomoortula, Oil & Gas Analyst at GlobalData, explains: "Booming natural gas production from shale plays is driving the US LNG liquefaction capacity growth. The expected LNG exports from these liquefaction terminals are giving serious competition to established players such as Australia and Qatar."
On the regasification front, India leads globally in terms of regasification capacity growth from planned and announced projects with 4.1 trillion ft3 of capacity expected to come online in 2023.
Of the 4.1 trillion ft3 of capacity, planned projects account for 1.8 trillion ft3, while early-stage announced projects account for the remaining 2.3 trillion ft3. China and Bangladesh follow India with regasification capacities of 1.9 trillion ft3 and 1.6 trillion ft3, respectively in 2023.
In terms of the largest liquefaction terminals in the outlook period by capacity, Qatar LNG terminal leads all the other terminals globally with a capacity of 32 million tpy. The announced terminal is expected to start operations in 2023.
As for the regasification terminals, the Al-Zour terminal in Kuwait is the top LNG regasification terminal globally in terms of capacity with 1.1 trillion ft3. The planned terminal is expected to come online by 2020.
Read the article online at: https://www.lngindustry.com/liquid-natural-gas/29052019/us-and-india-lead-newbuild-capacity-growth-in-global-lng-liquefaction-and-regasification-industries/
You might also like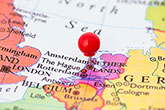 VTTI and Höegh LNG have signed an agreement to jointly explore options to develop and operate Zeeland Energy Terminal, the Netherlands.