Worley awarded FEED for QatarEnergy LNG's largest carbon sequestration project
Published by Jessica Casey, Editor
LNG Industry,
---
Worley has been selected to develop the FEED for QatarEnergy LNG's carbon dioxide (CO2) sequestration project in Ras Laffan, Qatar.
Through this CO2 sequestration project, there will be the capacity to capture 4.3 million metric tpy of CO2, which will help QatarEnergy LNG further reduce their environmental impact across the LNG value chain by reducing the greenhouse gas emissions from QatarEnergy LNG North's 7 LNG trains and QatarEnergy LNG South's 3 LNG trains.
CO2 will be captured from the trains, compressed, and injected into the new injection wells. New compression trains and pipelines need to be installed after FEED is completed. Using QatarEnergy LNG's selected concept, Worley will develop the FEED study and EPC scope of work.
The project team at Worley's Carbon Capture, Utilisation, and Storage (CCUS) Centre of Excellence will aim to prove the pre-FEED concept by modelling the CO2 capture process. This high-level technical approach will instil further confidence to expand the CO2 sequestration technology in the future to include the remaining trains at QatarEnergy LNG South and North.
Nawar Chapman, Country Manager Qatar & Kuwait at Worley, stated: "Having worked alongside QatarEnergy LNG for over a decade, we are delighted to be involved in this project and support Qatar on its sustainability journey. This project presents an opportunity to utilise our in-depth knowledge of the region and global expertise in delivering FEED services to the CCUS sector to drive project delivery. As we work towards our purpose of delivering a more sustainable world."
The project will have international involvement from Worley's teams in Qatar, and Australia, and is set for completion in April 2024.
Read the article online at: https://www.lngindustry.com/liquid-natural-gas/25092023/worley-awarded-feed-for-qatarenergy-lngs-largest-carbon-sequestration-project/
You might also like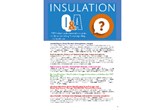 LNG Industry asked several companies to discuss some key factors regarding LNG insulation in our recent November 2023 issue of the magazine.