---
Gazprom's Board of Directors recently reviewed information regarding the prospects of the shale gas and LNG sectors around the world, as well as the opportunities and threats facing the company.
It was highlighted that, as in the past, shale gas production was concentrated almost entirely in the US. However, there is still a high level of uncertainty in the long-term forecasts for US shale gas production. Among the most important factors that will influence the future dynamics of production are the global prices for energy, the resource potential of shale deposits and the opportunities for improving development technologies.
Although China's shale gas production is showing positive momentum, its growth rates are substantially lower than planned. In Europe, according to recent estimates, domestic production of shale gas is unlikely to develop on a commercial basis, even in the long term.
For Gazprom, shale gas development is unfeasible in the mid and long term perspective, taking into account the company's large conventional gas reserves.
In their overview of LNG market trends, the meeting participants noted that the number of LNG-consuming countries would grow in the long term, mostly due to the emergence of new importers in the Asia-Pacific region. Moreover, experts believe that the leading positions in LNG imports will pass from the group of traditional importers (Japan, Republic of Korea and Taiwan) to a group that will include China and the countries of southern and southeast Asia.
It was also highlighted at the meeting that, amid a favorable pricing environment in the Asian market as of 2018, US LNG barely reached Europe, losing against Gazprom's pipeline gas. After the first 10 months of the year, there was a more than 100:1 disparity between Russian pipeline gas and US LNG in terms of deliveries to European countries. It was noted that the future of US LNG exports in general was largely dependent on the prospects of shale gas production.
According to experts, Russia has considerable potential to become one of the leaders of the global LNG industry. For instance, Gazprom continues to actively develop its LNG production capacities in addition to pipeline gas supplies for the existing and prospective sales markets.
The Management Committee was instructed to continue monitoring the prospects of the shale gas and LNG sectors around the globe.
The Board of Directors also reviewed and took note of the information about the performance assessment of the Members of the Board of Directors and its committees.
Read the article online at: https://www.lngindustry.com/liquid-natural-gas/22112018/gazprom-reviews-prospects-of-shale-gas-and-lng-sectors/
You might also like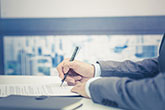 In its efforts to further boost natural gas utilisation in the country and enhance Nigeria's gas revenue, NNPC Ltd has signed two major agreements to deliver LNG to the domestic gas market and the international LNG market.