---
Jane K.G. Kristiansen and Tonje Sunde, Connect LNG, Norway, explore the import infrastructure available along South Africa's coastline and how improvements can be made to strengthen the country's energy industry.
Africa represents a large commercial opportunity for LNG, given the size of its population, rising living standards, energy demand outlook, and shift towards cleaner energy sources. It is common knowledge that sub-Saharan Africa suffers from power blackouts, and being a very large and diverse region made up of countries that have different natural resources, policies, and challenges, a 'quick fix' could be coined as fantasy, even though the drive and determination demonstrated by local businesses to solve Africa's energy crisis is strong.
South Africa, with a population of approximately 57 million, is pushing to diversify its energy sources away from coal. Notable market trends in this country include urbanisation and sustainability. Populations are shifting from rural to urban areas, putting an extra strain on local governments and their obligation to maintain and upgrade key infrastructure, such as the electricity distribution system. Given the long and inconvenient history of power shortages, LNG has the ability to transform the South African economy, supporting industrialisation, reducing reliance on inefficient, ageing coal plants, and contributing to regional trade.
Leveraging on low LNG prices
In South Africa, energy supply is dominated by coal – accountable for approximately 77% of primary energy demand. While renewables are on the national agenda, natural gas is seen as key to satisfying energy demand and advancing the country's transition to cleaner energy sources. However, the general consensus from the public is that priority should be given to affordable electricity supply, irrespective of source, albeit trending towards renewables.
Electricity generation is the largest key source of greenhouse gas (GHG) emissions in South Africa. State-owned vertically integrated utility Eskom produces more than 90% of the country's electricity, generating 44 GW of power in 2019, of which 36.5 GW came from coal. Natural gas has been identified as a key energy source for South Africa's growth and this requires infrastructure to support the transportation of this alternative energy source. Stimulating a faster energy transition can be realised by tighter linkages between the state and private sector, whose key interests revolve around LNG import and further distribution of natural gas to customers in the industrial, power, and transport sectors.
There is little doubt that LNG can alleviate South Africa's energy challenges in the short-term, but we are living in unprecedented times. The COVID-19 pandemic has led to demand destruction, record low pricing, and concerns over the viability of liquefaction projects. Global LNG trade is likely to register single digit or even negative growth in 2020, however this can lead to opportunistic buying and the emergence of new buyers. LNG is becoming cost-competitive with other fuels, and a drop in spot/term prices could significantly reduce the cost of electricity. Lower LNG prices could result in LNG becoming an increasingly viable feedstock across industries in South Africa.
This is an abridged version of an article that was originally published in the July 2020 issue of LNG Industry. The full version can be read here.
Read the article online at: https://www.lngindustry.com/liquid-natural-gas/22072020/theres-light-on-the-horizon/
You might also like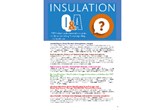 LNG Industry asked several companies to discuss some key factors regarding LNG insulation in our recent November 2023 issue of the magazine.