KLAW LNG celebrates success of first fully automated LNG transfer technology
Published by Will Owen, Editor
LNG Industry,
---
Signum Technology Group company KLAW LNG is celebrating the positive results delivered by its fully automated LNG safety transfer system to the community at Montego Bay, Jamaica, over the past year.
Working in partnership with Exida and Siemens for client Fortress Energy, KLAW LNG designed, engineered and manufactured this ground-breaking, first of its kind, safety integrity level and safety instrumented system (SILSIS). It has transformed the lives of the island's residents by giving them, for the first time, a safe and reliable flow of LNG. The LNG is used by the island's power generation facility to cost-effectively generate power for homes and businesses, as well as to run road transport.
The question of safety was the main driver behind the next generation technology employed by KLAW LNG in the design of this system. "LNG has to be kept at very low temperatures in order to be transferred. When heated it will expand instantly by 700%, so it is especially vital to engineer ground-breaking safety systems when dealing with delivery to an urban community," explains Julian Fairman, KLAW LNGs Technical Manager – Control Systems. "At a very early stage in the project we took the view that it was necessary to innovate and drive the technology forward so that we could provide a solution that was far in advance of the accepted standards."
What this has led to is the creation of what is being described as 'the world's most advanced LNG transfer system', in terms of both safety and availability. "We are very proud that SILSIS is the world's first fully-automated, Programme Logic Controlled (PLC), Safety Instrumented System, designed to continuously guarantee the highest levels of safety and operational readiness," says Fairman. "It is also the world's first SIL2 compliant safety delivery system, which is highly significant.
"More importantly though, this means that the people of Montego Bay have had their lives transformed because the power station, which previously ran on diesel, was extremely expensive and damaging to the environment. It is no exaggeration to say that the cost of this power was crippling to the island's economy and up until now they had no practical alternative. SILSIS means they now have a reliable and cost-effective energy source that is delivered with the highest safety levels of any LNG transfer system on the planet."
The two-stage ESD emergency shutdown system designed into SILSIS provides an escalated response in the event of something going wrong. The first stage ESD1 isolates lines, sounds a warning alarm, and inhibits transfer to reduce any risk of spillage. The second stage ESD2, which is activated automatically or manually, activates emergency release couplings and separates the transfer system.
The fact that the system has become the first to achieve SIL2 safety compliance is a major testament to the excellent engineering standards behind it.
"It isn't enough that architecture, components and performance should be SIL2 compliant; operations and procedures must also maintain the required levels over the operational life of the system through proper Safety Life Cycle Management," says Fairman.
In addition to the question of safety, the fact that SILSIS is a fully-automated PLC system means that it removes almost all human inputs from the transfer process. This maximises cost efficient availability and vastly reduces the potential for human error.
"SILSIS in Montego Bay is a genuinely ground-breaking innovation that has had an enormous positive impact on the lives of local people and it is something that we are very proud of indeed," says Jeff Vile, Signum Technology's Sales and Compliance Director. "It is remarkable on a number of different levels – in addition to being the world's first fully-automated LNG transfer system and the world's first SIL2 compliant LNG transfer system, it is also the first LNG land terminal in the world that uses a Flexible Hose Transfer System and the first LNG transfer system in Jamaica.
"KLAW LNG has a proud record of innovation and engineering excellence and it gives us a great deal of satisfaction to see that the investment Signum Technology has made in the business and in the other associated companies in the group results in such outstanding technical excellence, which has such a profound positive effect on the lives of people around the world," Vile concludes.
Read the article online at: https://www.lngindustry.com/liquid-natural-gas/19022019/klaw-lng-celebrates-success-of-first-fully-automated-lng-transfer-technology/
You might also like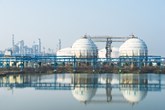 Accurate flow rate measurement during LNG liquefaction is essential. But how do you know if your flow meter can handle potential pressure drops, temperature changes, and the extreme conditions of the cryogenic process? Download Panametrics' new case study to learn how its flow meters can deliver extremely accurate LNG flow measurements.