---
Europe's appetite for gas has undergone a renaissance in recent years. This follows the trough of 2014 when Europe suffered its lowest levels of gas demand since the mid-1990s. Weather has played a role in the return to growth, but a swing in the power sector has underpinned most of it.
Speaking at the Gastech 2018 conference in Barcelona, Murray Douglas, research director, Europe gas, at global natural resources consultancy Wood Mackenzie, said: "European gas demand will prove resilient through to the mid-2020s, though the pace of growth seen in recent years is not sustainable."
"Gas-fired power generation has been supported by some transitory factors – such as low nuclear and hydro output. Gains have also been realised through high coal and carbon prices, which will continue to support gas' competitiveness."
"But most importantly, as national coal phase-out policies take hold across Europe, gas will continue to benefit from this more permanent and structural shift in the power market."
With Europe's largest gas field, Groningen in the Netherlands, mandated to shut in by 2030, 18% of Europe's indigenous production will be wiped out by 2025. After record exports in 2017, Norwegian production will persist as new developments such as Aasta Hansteen and Troll Phase 3 come online.
Note: If you want to keep up-to-date with the latest LNG developments, start your free trial to LNG Industry magazine today.
However, eventually, the new Norwegian supply required to offset legacy decline becomes costly as future developments are remoter and more complex.
Douglas said: "Combined, this leaves Europe with a burgeoning import dependency. In the last seven years, import dependency has jumped 30 billion m3 per year. And by 2025, Europe will require an additional 79 billion m3 per year of imports versus 2018 levels – comparable to the size of Europe's largest gas market, Germany."
The commissioning of the first phase of the Southern Corridor was delivered on time and under budget in June 2018. This will unlock Azerbaijani gas for Europe via TAP from 2020. Douglas added: "An expansion of TAP remains compelling, but uncertainties remain over the source, cost and timing of future upstream supply."
"The outlook for Algerian piped exports into Southern Europe face similar challenges to those in Norway. Although the prospects for Algerian supply is further complicated by fiscal uncertainties, contract expiries and growing domestic requirements."
"This means market space in Europe will open up for LNG suppliers and Russia."
Nord Stream 2 and TurkStream will come online from 2020 but uncertainties remain on the future role of Ukraine transit. Decisions on Russian piped flows – on a route and volume basis – remain critical to Europe's requirement for LNG.
Russia will ramp up volumes through its new pipeline infrastructure but will eventually hit constraints without further capacity growth – especially on a seasonal basis.
"The level of supply flexibility to the European market diminishes as Europe's indigenous supply falls and risks to proximate legacy piped supplies grow," Douglas said. "This has already acted to support European gas prices in 2018."
"Global LNG supply growth over the next few years will mitigate Europe's lack of supply flexibility but the market will tighten again. If a subsequent wave of LNG supply does not progress, competition in the global LNG market will intensify."
"The strategies of European gas buyers face rising scrutiny. If the next wave of LNG supply progresses as consensus suggests, the European market will continue to enjoy the benefits of being the liquid market available for LNG volumes. However, any downside to LNG supply growth will necessitate a lift in European prices to a level where they must become competitive with Asian buyers," he added.
Read the article online at: https://www.lngindustry.com/liquid-natural-gas/18092018/europes-gas-market-is-a-destination-not-a-last-resort/
You might also like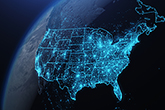 A Seapath and Pilot LNG joint venture will develop, construct, and operate a terminal in the Galveston Bay area supporting LNG-powered vessels.