---
Alap Shah, Black & Veatch, USA, outlines how big trends in gas-to-power are pushing LNG to prominence in the global power portfolio.
World LNG markets are a complex web of shipping lanes, established and emerging export and import facilities, and offshore liquefaction technologies, that have combined to push LNG into its critical role in the global power generation mix.
While regions with abundant energy reserves jockey for export leadership, it is clear that the US and other major countries will play critical roles as natural gas works alongside renewables as a lower-footprint energy source. For instance, recent projections from the US Energy Information Administration (EIA) name the US as a net energy exporter, with natural gas leading the way. More recently, a new report from the Interstate Natural Gas Association of America (INGAA) Foundation concluded that natural gas will retain its critical role in the US power sector for at least the next 20 years, even as renewable energy grabs a bigger share of the nation's electricity market. This trend, coupled with growing global demand for US exports, underscores the need for the gas industry's continued investment in infrastructure to support these growing needs.
Commissioned by the INGAA Foundation, which represents the full value chain of the natural gas transmission industry, 'The Role of Natural Gas in the Transition to a Lower-Carbon Economy' examines key drivers that could affect the consumption of natural gas and the use of gas infrastructure from 2020 to 2040. With extensive analyses backed by modelling and industry expertise, the report centres on two scenarios that focus on different paths toward an energy mix increasingly reliant on renewable energy. The conclusion: natural gas is expected to complement renewable resources.
Making the case for investment
Demand growth from Asian economies, global policy choices supporting cleaner energy sources, lower costs for renewables and significant geopolitical shifts also support the case for investment. While Africa, Europe and India have set aggressive renewable energy targets by 2030, according to Black & Veatch's recent '2019 Strategic Directions: Natural Gas Report', natural gas is attractive to emerging markets due to certain advantages over developing technologies such as battery storage and other alternative fuels based on price, reliability and access. Infrastructure, led by the LNG industry, will enable the transport of gas to export facilities, which will play a vital role in serving these markets.
This is an abridged version of an article that was originally published in the August 2019 issue of LNG Industry. The full version can be read here.
Read the article online at: https://www.lngindustry.com/liquid-natural-gas/13082019/riding-the-global-waves-of-change/
You might also like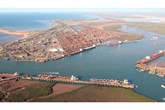 Pilbara Clean Fuels, Oceania Marine Energy, and RINA join forces in a collaboration to develop a low-carbon LNG production and marine bunkering concept in Port Hedland, Australia, aiming to change the maritime industry's environmental impact.