---
According to
Reuters
, the Australian government has announced that it will consider forcing gas producers to reserve some of their supply for the gas market, as it aims to reduce energy bills for both manufacturers and households.
Resources Minister Matthew Canavan and Energy Minister Angus Taylor reportedly stated that they would look into a variety of policies and come up with options by February 2021. These include gas reservation, pipeline access and price transparency.
According to Reuters, both Labor and Conservative governments in Australia have long fought off proponents of domestic gas reservation, claiming that any interference with the market could, in the long run, distort prices and deter new production capacity.
However, Reuters claims that over the last five years, wholesale gas prices have tripled, due to the startup of LNG exports from eastern Australia. As a result, the country's government has come under immense pressure to boost supply and cut prices.
In a joint statement, the Resources Minister and Energy Minister reportedly said: "Past approvals of large gas export projects have not adequately considered the impact on the domestic gas market and that has contributed to some of the pressures we have seen in recent years. We cannot afford to repeat these past mistakes."
In a televised media conference, Reuters reports that Canavan added that any gas reservation would not impact Western Australia, and would only apply to future developments.
According to Reuters, the Australian government implemented the Australian domestic gas security mechanism two years ago. Under this mechanism, the Resources Minister must make a decision every year on whether or not to limit LNG exports from Queensland state in order to avoid any forecast local shortage.
To date, Reuters reports that the Minister has not decided to limit these exports, and the government is now looking to review the mechanism. Canavan and Taylor reportedly added that they look to pressure states into lifting their restrictions on onshore gas drilling.
According to Reuters, industries such as chemical producers, which are highly reliant on gas, have been calling for gas reservation for a long time. This is because they wish to boost supply, due to the fact that growing energy prices have damaged profits and even led to the closure of some plants. These such industries have pointed to cheap prices in Western Australia, Australia's largest LNG exporter, which has long required producers to sell 15% of their output to the domestic market.
Reuters quotes Manufacturing Australia as reportedly saying in a statement: "If we want to power a resurgence in Australian manufacturing... then there is no more important task than reforming the domestic gas market."
According to Reuters, the country's petroleum industry has agreed to work closely alongside the government in its review of gas policy, but claims that intervening in the market could have a price. This could include a growing perceived risk of carrying out business in Australia.
Read the article online at: https://www.lngindustry.com/liquid-natural-gas/06082019/australia-reviewing-gas-policy/
You might also like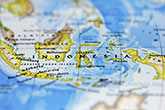 President Joko Widodo has officially inaugurated Tangguh Train 3 in Indonesia.