---
Andreas Silcher and Chrysa Kitsou, Haynes and Boone CDG, LLP, UK, take a detailed look at the Mediterranean LNG market.
As is well known in the industry, the EU lacks the resources to be self-sufficient when it comes to its energy needs. Instead, it is heavily dependent on imports, primarily from Russia (which is currently the main EU supplier) and other countries, such as Norway and Qatar, to satisfy its requirements. Growing US exports of natural gas have helped the EU to ensure diversified supply routes over the past few years so as to avoid perpetuating susceptibility to interruptions. This article will look at some of the recent developments in the East Mediterranean, which is on its way to becoming the next natural gas hot spot.
Considering recent offshore field discoveries in the East Mediterranean, many industry participants view the region as key to further energy security and diversification in the EU, having a considerable impact locally, regionally and internationally. Cyprus, Israel and Egypt have historically been energy importers, but are now faced with the possibility of establishing energy self-sufficiency and securing a new stream of revenue for their economy, provided that any material gas quantities can be successfully delivered to other markets. The EU is a natural export market choice for these states given geographic proximity.
Mediterranean offshore fields
Several fields have been discovered over the past decade, including: Tamar in 2009 and Leviathan in 2010 (both in Israel); Zohr in 2015 in Egypt; and Aphrodite in 2011, Calypso in 2018 and Glafkos in 2019 in Cyprus. These untapped field discoveries have attracted both national and international interest.
The Zohr gas field, with 30 trillion ft3 of reserves, was discovered by the Italian energy company Eni, which just recently completed the production tests of the field's 14th well, bringing its total production capacity to 3.2 billion ft3/d. Zohr's significance, besides its tremendous potential due to its vast size, lies in its proximity to other fields off Israel and Cyprus. A coordinated development of the states involved may provide the required economies of scale needed to create a competitive regional gas export infrastructure from which all the participating countries could benefit.
Noble Energy, the Houston-based oil and gas company, is the operator and majority shareholder of the Leviathan gas field, whilst Delek Drilling, Avner Oil Exploration and Ratio Oil Exploration also have participating interests. In January 2020, Israel commenced exporting its gas to Egypt through the East Mediterranean Gas (EMG) pipeline (also known as Arish-Ashkelon pipeline) as part of a large deal for 85 billion m3 of gas to be provided over 15 years from the Israeli Leviathan and Tamar fields. This transaction represents a further milestone in the strategic cooperation between the two countries, which has been developing since the 1979 peace treaty. Egypt aims to harness this momentum and become a pivotal energy transit/export hub, using its two liquefaction facilities in Idku and Damietta, the only ones in the region, with 19 billion m3/yr capacity – with potential for expansion.
This is an abridged version of an article that was originally published in the May 2020 issue of LNG Industry. The full version can be read here.
Read the article online at: https://www.lngindustry.com/liquid-natural-gas/05052020/shaking-up-the-market/
You might also like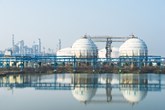 Accurate flow rate measurement during LNG liquefaction is essential. But how do you know if your flow meter can handle potential pressure drops, temperature changes, and the extreme conditions of the cryogenic process? Download Panametrics' new case study to learn how its flow meters can deliver extremely accurate LNG flow measurements.