---
TransCanada Corp. has released its financial results for 3Q18, reporting net income attributable to common shares of $928 million ($1.02 per share) compared to net income of $612 million ($0.70 per share) in 3Q17.
Comparable earnings for 3Q18 were $902 million ($1.00 per share) compared to $614 million ($0.70 per share) for 3Q17. TransCanada's Board of Directors also declared a quarterly dividend of $0.69 per common share for the quarter ending 31 December 2018, equivalent to $2.76 per common share on an annualised basis.
Russ Girling, President and Chief Executive Officer of TransCanada, said: "During the third quarter of 2018, our diversified portfolio of critical energy infrastructure assets continued to perform extremely well.
"Comparable earnings of $1.00 per share increased 43% compared to the same period last year reflecting the strong performance of our legacy assets, contributions from approximately $7 billion of growth projects that entered service over the last 12 months and the positive impact of US Tax Reform. For the nine months ended 30 September 2018, comparable earnings were $2.82 per share, an increase of 24% over the same period last year despite the sale of our US Northeast power generation and Ontario solar assets in 2017 and necessary financing activities that have us on track to return to long-term targeted credit metrics post the Columbia acquisition.
"With our existing asset portfolio benefiting from strong underlying market fundamentals and approximately $36 billion of secured growth projects underway including Coastal GasLink, NGTL's 2022 expansion program and Bruce Power's Unit 6 refurbishment, earnings and cash flow are forecast to continue to rise. This is expected to support annual dividend growth of 8 – 10% through 2021.
"With approximately $10 billion of new projects expected to enter service by early 2019, we are well positioned to fund the remainder of our secured growth program through internally generated cash flow, access to capital markets and further portfolio management activities. Through the end of October, we placed approximately $6.1 billion of long-term debt on compelling terms and raised approximately $2.0 billion of common equity through our dividend reinvestment plan and at-the-market program. We also completed the sale of our interests in the Cartier Wind power facilities for proceeds of approximately $630 million and expect to be reimbursed for approximately $400 million of Coastal GasLink pre-development costs. Collectively, these initiatives have raised $9.1 billion, which, when combined with our growing internally generated cash flow, means our 2018 financing requirements are fully funded. We view ATM issuance as being complete at this time while our dividend reinvestment plan will operate for some portion of 2019. Going forward, we will continue to evaluate share count growth against further portfolio management activities.
"Looking ahead, we continue to methodically advance more than $20 billion of projects under development including Keystone XL and the Bruce Power life extension agreement. Success in advancing these and/or other growth initiatives associated with our vast, well-positioned North American footprint could extend our growth outlook well into the next decade."
Read the article online at: https://www.lngindustry.com/liquid-natural-gas/02112018/transcanada-releases-financial-results-for-3q18/
You might also like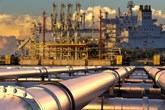 At every stage of the LNG process – from pretreatment to transportation – accurate and reliable measurements are essential for optimising production, maintaining safety, and ensuring profitability.