---
According to
Reuters
, the head of Norwegian pipeline operator Gassco has said that the country has approximately 50 undeveloped natural gas discoveries that could eventually be tied into its export system.
Such discoveries could potentially be more profitable nowadays, due to the decreasing cost of developing offshore oil and gas fields.
Frode Leversund, Gassco Chief Executive, reportedly spoke to Reuters at an energy conference, refusing to estimate the possible size of the additional resources, and saying that it is the decision of energy firms to evaluate which discoveries are worth developing, and which are not.
He said: "Some of them are in a really early stage of development, some not matured at all.
"What we have seen is that based on the efficiency (gain) that has been (made) in the industry since 2014 and until now, we see that the project costs for some of these fields have improved.
"This is a totality so it covers small fields, bigger fields and the whole span. The decision will be up to each licence (holder) to decide whether to invest. Then Gassco will find the best solution to get them into the system.
"If the market is there, taking this volume in, then Norway will deliver approximately on the same level as last year, even though the maintenance period is a bit higher this year.
"Volumes into Germany this year are really high and I see that volumes into UK are lower than the same period last year, exactly due to the import of LNG (into the UK)."
According to Reuters, the Gassco Chief Executive went on to say that, whilst Norway's gas deliveries can be affected by maintenance levels at gas fields and import and export terminals, the outlook for next year remains stable compared to this year.
Read the article online at: https://www.lngindustry.com/liquefaction/29052019/gassco-chief-executive-discusses-undeveloped-norwegian-gas-discoveries/
You might also like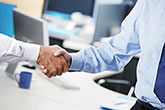 Commonwealth LNG has bolstered its management ranks with the addition of George Nemeth as Chief Commercial Officer, and Dan Fleischer as Senior Vice President, Finance.