---
Woodside has released its report for 4Q18, reporting that it delivered sales revenue of AUS$1419 million – a 43% increase from 4Q17.
In addition to this, the company claims that during the quarter it produced 24.1 million boe (10% increase from 4Q17) and annual production of 91.4 million boe (8% increase from 2017). Furthermore, Woodside claims that it achieved 99.7% reliability at Pluto LNG. The company also continued to exceed expectations with production from Wheatstone LNG Train 1 and Train 2. It also entered into a long-term gas sale and purchase agreement with Perdaman for the supply of pipeline gas for a 20-year term.
In the statement, Woodside claims that it also helped to deliver 'a clear plan across three horizons':
Started production at Greater Western Flank Phase 2, six months ahead of schedule and AUS$630 million under budget (100% project).
Assumed operatorship, submitted the SNE Development and Exploitation Plan, commenced front-end engineering and design (FEED) activities, and received approval of the Environmental and Social Impact Assessment for the proposed SNE Field Development Phase 1.
The North West Shelf Project participants signed non-binding preliminary agreements with the Browse Joint Venture and Chevron for the processing of their respective offshore gas resources through North West Shelf Project facilities.
Awarded Pluto Train 2 FEED contract to Bechtel.
Awarded Julimar Phase 2 execute contracts to OneSubsea Australia and Diamond Offshore.
Subsequent to the period, Woodside also claims that it awarded contracts for Scarborough FEED activities, in its corporate capacity as a Scarborough titleholder.
The CEO of Woodside, Peter Coleman, said: "Production rose 10% compared to the fourth quarter of 2017, while sales revenue climbed 43% to AUS$1419 million on the back of higher prices.
"A highlight of the quarter was the start-up of the Greater Western Flank Phase 2 project in October, six months ahead of schedule and AUS$630 million under total budget.
"In addition to the outstanding result in delivering Greater Western Flank Phase 2, we achieved significant milestones in the development of our next wave of projects, which will underpin Woodside's future growth.
"In Senegal, we commenced front-end engineering design activities for our proposed SNE Field Development Phase 1. Subsequent to the end of the quarter, the Senegalese Government approved the development's Environmental and Social Impact Assessment.
"Key steps were taken during the quarter toward the realisation of our vision for the Burrup Hub, with FEED for the proposed Pluto-North West Shelf Interconnector gas pipeline now completed for the Pluto LNG facilities and pipeline.
"Bechtel has been awarded the FEED contract for the proposed Pluto Train 2.
"We are converting the preliminary agreement signed in 4Q18 to a fully-termed, binding agreement for the processing of Browse gas through the North West Shelf's Karratha Gas Plant.
"We continue to demonstrate our commitment to supplying the Western Australian domestic gas market, signing sale and purchase agreements with Perdaman and Alcoa. We also delivered our first supplies from Pluto into the Dampier to Bunbury Natural Gas Pipeline."
Read the article online at: https://www.lngindustry.com/liquefaction/17012019/woodside-releases-4q18-results/
You might also like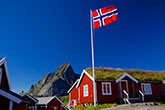 Equinor has announced that the gas leak that occurred at the Hammerfest LNG plant at Melkøya on 31 May 2023 has been stopped and normalisation is under way.