---
According to
Reuters
, the government of Papua New Guinea (PNG) has ended talks with Exxon Mobil Corp. regarding a key gas project, putting plans to double gas exports from PNG in doubt.
PNG Prime Minister, James Marape, reportedly ended negotiations with Exxon on the P'nyang field, claiming that the energy giant would not budge on a proposed deal that was "out of the money".
Marape said in a Facebook post: "I am sorry but if you show little respect to our motive to gain extra for the country, you will lose my support."
According to Reuters, Oil Search Ltd – one of Exxon's partners in the PNG project – said that the terms the government wanted would make the project unprofitable.
In a statement, Oil Search said: "Under the terms proposed by the State, the joint venture partners were unable to obtain a return on their investment that made the project investable and bankable."
Reuters reports that the P'nyang agreement was one of two key agreements necessary for Exxon and its partners to proceed with the US$13 billion plan to double LNG exports from the country. The other agreement – the Papua LNG pact – has already been finalised, having been sealed with Total SA in September last year.
According to Reuters, a source close to the negotiations said that the government wants terms that would give it more than the 45 – 50% take that PNG is set to reap on the returns from the Papua LNG project, and significantly higher than the terms negotiated with Exxon in 2008 for the PNG LNG project.
P'nyang and Total's Papua LNG project were designed to feed three new LNG trains at Exxon's PNG LNG facility. The two projects were set to share infrastructure in order to save US$2 billion – US$3 billion on construction expenditure.
According to Reuters, Oil Search has announced that it will now focus on the Papua LNG project, which will feed two new trains, adding 5.5 million tpy to the plant's 8 million tpy capacity. The company went on to say that the joint venture partners are set to meet "in the short term" to plan the next steps.
According to analysts at Bank of America, separating the projects would reduce the cost savings by approximately one-third, and delay first production from the Papua LNG project by a period of 18 months (to 2026).
Andy Forster, senior investment officer at Argo Investments, which owns Oil Search shares, said: "The two projects are rather entwined. There's a bit of uncertainty now. Everything's going to be delayed for quite a period of time."
Exxon, however, is still hopeful that talks with the PNG government could be picked back up in future, but has numerous other projects it could proceed with elsewhere, so is in no immediate rush to do so.
Speaking analysts, Darren Woods, Exxon Chief Executive, said: "But I also think we've got some time given all the other opportunities in front of us and, frankly, given where we're at today in the supply-demand balance of LNG."
Read the article online at: https://www.lngindustry.com/liquefaction/03022020/png-government-walks-away-from-gas-talks-with-exxon/
You might also like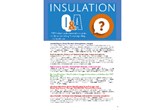 LNG Industry asked several companies to discuss some key factors regarding LNG insulation in our recent November 2023 issue of the magazine.