---
Stuart Barry, Bergen Pipe Supports (India) Private Ltd, UK, discusses some of the challenges of supporting and restraining cryogenic pipework.
All process plants rely on a complex network of piping connecting each stage of the process to the next. Piping varies in size from as small as 15 NB to as large as 2150 NB, carrying fluids at temperatures ranging from -192°C to 850°C.
That is a range of 50 different sizes of pipe, a temperature span of over 1000°C, and materials ranging from basic carbon steels to exotic alloys.
Modern plant design and the need for tight control of lifetime costs places heavy demands on the engineering, procurement and construction (EPC) contractor to deliver the most cost-effective solutions in the shortest possible time. This often means that a plant is fabricated in modules at construction yards many thousands of miles away from the actual plant location.
The pipe support dilemma
The site is acquired, permissions sought and granted, civil construction and capital plant ordered, piping bulks, valves and pumps requisitioned, and module fabrication agreed.
Mechanical design proceeds, construction commences, and capital plant is delivered, but the pipe supports are held pending finalisation of design. In a project schedule of perhaps two or three years, the major packages proceed with minimal change, but the supports, which are critical for installing the piping, are usually left until very late in the schedule before orders are placed. It is not uncommon for the support manufacturer to be given less than six months to design, detail, gain approval, procure materials, manufacture, test and certify a scope of several thousand supports.
Do we hear support manufacturers bleating about these hardships? No, because that has been the lot of support manufacturers for the last 30 years or more. What you do hear is a support manufacturer explaining that the whole process could be made far easier and much more streamlined than it has been in recent years.
The 'cryogenic' dimension
Cryogenic pipe supports appear to be simple items, consisting of high-density polyurethane foam, a cradle, a pipe base and some fasteners. However, they are far from simple, and have to meet the very onerous project specification.
A simple resting support has to be designed to accommodate the load and the thermal displacement of the pipe. It has to match the height of the pipe above the steel structure and fit to the pipeline insulation, which could have single or multiple layers of insulation and may include special acoustic materials. It might have a choice of external cladding depending on where in the plant it is located; marine exposure or potential fire exposure will have different specifications to the standard onshore process areas. More complicated pipe supports that include variable or constant effort supports need to accommodate not only the weight of the pipe, its contents and any thermal forces, but also need to consider the significant weight of the cryogenic cradle and its insulation. There are a range of myths and age-old traditions that prevail in making the design and construction of cryogenic supports almost a dark art. Some of these practices actually lead to unreliable designs that are difficult to install and result in breaches of the critical vapour barrier before the plant is commissioned.
The major operators and end-users have their own specifications that have evolved over many years and vast amounts of experience. These specifications are layered over the EPC's own specifications, which, in turn, are layered over the support manufacturer's specifications.
The dilemma is thus multi-layered, with many potential breaches and conflicts, just like the insulation and pipe support specifications developed for each project.
This is an abridged version of an article that was originally published in the December 2019 issue of LNG Industry. The full version can be read here.
Read the article online at: https://www.lngindustry.com/special-reports/30122019/optimising-the-pipe-support-process/
You might also like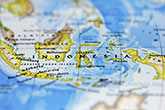 President Joko Widodo has officially inaugurated Tangguh Train 3 in Indonesia.