---
Carlos Torres-Diaz and Iben Frimann-Dahl, Rystad Energy, survey the natural gas industry in the Middle East and evaluate the extent to which it is capitalising on its market potential.
The Middle East has the largest discovered natural gas reserves in the world, but the region has not managed to fully exploit this valuable resource and market it internationally. With the exception of Qatar, exports via pipeline and LNG are minimal, and the rapid growth in indigenous gas demand means that any increase in production is easily absorbed within the region. Discovered resources total 35.8 trillion m3 or 28% of the world's total, but to what extent the region will be able to take advantage of this going forward is far from certain.
Production growth is led by the current top producers
While Middle Eastern gas output has so far failed to reach the potential offered by its massive reserves, production figures from the region have in fact shown steady growth in recent years – in spite of multiple hurdles in the form of sanctions, wars and general turbulence. Back in 2010, the marketed natural gas output in the region amounted to 472 billion m3, but by 2017 it had crept up to 609 billion m3. Going forward, Rystad Energy forecasts that Middle East production will increase to 898 billion m3 by 2030, which will predominantly be driven by the three largest gas producers – Iran, Qatar and Saudi Arabia.
Although sanctions were imposed on Iran up until 2016, the country has been the main driver of regional gas growth. Between 2010 and 2017, Iran added 65 billion m3 to its annual production, which comprised nearly half of the region's total increase during this period. And, unlike the country's oil production, the steady growth in gas production is not expected to be hampered by US President Trump's decision to withdraw from the Joint Comprehensive Plan of Action (JCPOA). Given that nearly all gas fields in Iran are owned and operated by national companies and the gas is mostly consumed domestically, the reinstated sanctions will have a limited effect on total gas production. However, one exception is Total's South Pars (Phase 11) project. Total has confirmed it will withdraw from the deal to develop the field since the company was not able to secure a waiver from US sanctions. China National Petroleum Corp. (CNPC), which already owns 30% of the field, has expressed interest in taking over Total's 50.1% share that would allow development of the field to continue. However, the startup of the field is expected to be delayed until 2024. Overall, Iranian gas production is forecasted to reach 363 billion m3 in 2030.
This article was originally published in the October 2018 issue of LNG Industry magazine. The full version can be found here
Read the article online at: https://www.lngindustry.com/special-reports/18102018/maximising-potential/
You might also like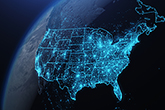 A Seapath and Pilot LNG joint venture will develop, construct, and operate a terminal in the Galveston Bay area supporting LNG-powered vessels.