---
Peter Kiernan, the Economist Intelligence Unit, Singapore, takes a detailed look at the Australian LNG market.
It's official. Australia is now the largest exporter of LNG, in terms of capacity. Its huge and ambitious expansion wave, which began in 2015, is now complete, and Australia's liquefaction capacity now exceeds that of Qatar. In terms of volume, Australia is also on the cusp of being the largest exporter of LNG on an annual basis. This will likely be achieved either this year or next. A decade ago, Australia had two LNG export projects, but since 2012 this has grown to 10, with seven coming online since 2015. The raft of projects that were sanctioned several years ago are now operating in a gas market that is quite different to the time when many of these projects were first approved. Prices are lower, the dominance of long-term contracting is being eroded, the US is set to become the next major exporter, and China has already become a major importer.
LNG leader
With the completion of the Prelude floating LNG (FLNG) project in 2019, Australia's total LNG capacity reached approximately 88 million tpy, bringing Australia's total capacity ahead of Qatar's 77 million tpy. Seven major LNG projects were completed between 2015 and 2019, involving 13 LNG trains and an FLNG vessel, enabling Australia to become the leading LNG exporter in terms of capacity. In 2018, Australia's LNG exports reached 68 million tpy, falling short of Qatar, which exported approximately 77 million tpy. However, with three new projects recently starting up, it is likely that Australia will exceed Qatar in terms of volume as well, and remain the world's top LNG exporter for the next several years.
Between 2007 and 2011, Qatar added considerably to global LNG capacity, followed by Australia between 2015 and 2019, and this will be followed by the US, which began exporting LNG on its mainland in 2016, from next year. Following this, Qatar, which abandoned its moratorium on LNG development in 2017, now plans to expand LNG capacity by 40%, with the bulk of that targeted to be achieved by the middle of the next decade.
Thus, Australian LNG will face increased competition for export markets from existing and emerging exporters, and it will be several years before Australia will add any further greenfield LNG capacity itself. New investments are still being proposed, but involve development of offshore fields to open up new sources of supply to already operating LNG projects in western and northern Australia, and may involve up to two trains being constructed (at the Pluto and Gorgon projects off the coast of Western Australia). Given the massive amount of capacity that has been added in a short period of time, it is no surprise that the Australian LNG sector will take a breather from greenfield capacity expansion for now; as the supply-demand dynamics of the global LNG scene, and the domestic energy policy landscape, play out over the next five years.
This is an abridged version of an article that was originally published in the February 2020 issue of LNG Industry. The full version can be read here.
Read the article online at: https://www.lngindustry.com/special-reports/12022020/lng-from-the-land-down-under/
You might also like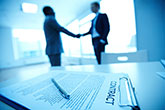 OMV has announced the signing of a long-term sale and purchase agreement with Cheniere Energy, Inc., covering the supply of up to 850 000 tpy of LNG beginning in late 2029.