---
According to IEEFA, the gap between Europe's LNG capacity and demand continues to widen. Europe has added six new LNG terminals since the beginning of 2022, plus one expansion, a previously mothballed terminal and a new floating storage regasification unit (FSRU) that is docked but not yet operational, while LNG imports have flattened and gas consumption keeps declining.
LNG import capacity is set to reach 406 billion m3 in 2030, an increase of 143 billion m3 from 2021 levels, while gas consumption is forecast to fall to around 400 billion m3 as the continent pushes ahead with gas demand reduction policies.
The utilisation rate of Europe's LNG terminals averaged 58% between January and September 2023. In the face of declining European gas consumption, it raises questions as to whether Europe needs to build additional LNG infrastructure through 2030.
"The decline in gas demand is challenging the narrative that Europe needs more LNG infrastructure to reach its energy security goals. The data is showing that we don't," said Ana Maria Jaller-Makarewicz, an IEEFA energy analyst. "Despite significant progress towards reducing gas consumption, countries in Europe risk trading a reliance on Russian pipelines for a redundant LNG system that further exposes the continent to volatile prices."
While European LNG imports from January to September 2022 increased by 62% in comparison with the same period in 2021, LNG imports in 2023 have flattened, increasing just 4% year-on-year. Meanwhile, the European Union (EU) has met its winter gas storage targets ahead of schedule.
The EU alone spent €41 billion on LNG imports between January and July 2023, with the U.S. (€17.2 billion), Russia (€5.5 billion) and Qatar (€5.4 billion) the largest beneficiaries. As of September 2023, the EU, Türkiye and the UK had imported a total of 125 billion m3 of LNG.
European imports of Russian LNG between January and September 2023 remained steady compared to the same period in 2022. Top-line figures mask national variations, with Spain and Belgium increasing their LNG imports by 50% in 2023 compared to the previous year. Terminals in Belgium and France also continue transshipping Russian LNG volumes from the Yamal project.
This update is part of IEEFA's European LNG Tracker, a publicly available interactive data set to visualise Europe's LNG infrastructure, demand and capacity outlook, and import and export flows.
Read the article online at: https://www.lngindustry.com/special-reports/06112023/ieefa-europe-plans-continued-lng-infrastructure-buildout/
You might also like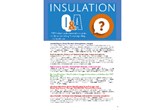 LNG Industry asked several companies to discuss some key factors regarding LNG insulation in our recent November 2023 issue of the magazine.