---
Tallink Grupp has announced that the new Tallinn-Helsinki route shuttle vessel will be named MySTAR.
The LNG dual-fuel vessel will be built at Rauma shipyard in Finland and is scheduled for completion by the end of 2021. The name was proposed in the vessel naming competition by a Finnish national.
According to the statement, the shipping company ran a naming competition for the new vessel this summer, and a final decision was made by the company's management board in September.
Over 2800 entries were received from 30 countries across the world. In addition to the more common names for a vessel, the competition also received more unconventional entries for the new vessel's name, such as: M/S Ott Tänak; M/S Marie Under; Speedy Gonzales; Great Finland; Queen Suomi; Suomenlinna; Mega Tallsinki Express; Kalevipoeg; King Kong; Eri Klas; Tunnel; Vana Toomas; Sibelius; Megafast; Boaty McBoatface; and Shuttle McShuttleface.
Tallink Grupp's CEO, Paavo Nõgene, said: "We never doubted the interest people in this region have in shipping and knew that many people around the Baltic sea would take up the opportunity to write their name in the region's shipping history by proposing the winning name to our vessel. But we never knew there were so many shipping fans also wider afield, who all submitted some great names as well.
"Choosing the winning name was not easy for us as there were many great proposals, but ultimately we wanted to carry on with the tradition that our shuttle vessels are 'stars' of the Baltic Sea, so that narrowed the selection somewhat. And why we opted for MySTAR – well, because the new vessel is shaped by everyone who travels with it, so everyone can feel that this vessel is part of them."
Read the article online at: https://www.lngindustry.com/small-scale-lng/29102019/tallink-grupp-names-new-tallinn-helsinki-shuttle-vessel-mystar/
You might also like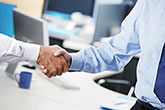 Commonwealth LNG has bolstered its management ranks with the addition of George Nemeth as Chief Commercial Officer, and Dan Fleischer as Senior Vice President, Finance.