---
Tighter emissions rules for international shipping could create new long-term opportunities for LNG.
As a cleaner burning fuel, LNG meets the requirements of the International Maritime Organization's (IMO) new limitations on airborne sulfur dioxide emissions, which come into place on 1 January 2020. Now less than 12 months away, the new rules will cap sulfur content of fuel at 0.5%, a huge reduction from current limits of 3.5%.
This is a big shake-up across the value chain: for shipowners, who will bear the upfront costs of compliance; for consumers, to whom those costs may be passed; and for the international upstream and downstream industries as they strive to meet demand for low sulfur crudes and face falling margins for high sulfur heavy crudes.
"If this was delivered by the refining industry alone, it would be the biggest ever one-time removal of sulfur in a transport fuel", according to Alan Gelder, vice president, refining, chemicals and oil markets, at global natural resources consultancy Wood Mackenzie. He points out, however, that with less than a year to go, "certainties are few and far between, with more unknowns than knowns."
Those unknowns include the readiness of the refining industry to offer 0.5% sulfur fuel oil. "To date, few have committed to major capital projects and those that have are investing around US$1 billion on projects that will take a number of years to implement", said Gelder in a research note. Those refiners that can configure their plant for this legislative change are likely to be well-rewarded as prices of distillate rise on the back of increased demand.
Worried about the costs of ultra-low sulfur fuel oils, some shipowners are now investing to install vessel exhaust treatment systems, known as 'scrubbers', on their ships in order to ensure compliance. According to analysts at DNV GL, around 2000 scrubber installations will be carried out between now and 2020, taking the number of ships fitted with scrubbers – and thus able to continue burning high-sulfur fuel after 2020 – to 4000.
There are, of course, alternative fuels for shipping, including LNG, LPG, methanol, biofuel and hydrogen. Of these, LNG is the most proven. And with the lowest CO2 emissions, it is also expected to be future-proof to meet future IMO rules on carbon output as IMO 2030 seeks a reduction in carbon intensity of at least 40% while IMO 2050 targets a 70% cut. Given LNG's cleaner-burning profile, it offers shipowners a long-term solution for their fleet.
Independent analysis commissioned by industry body SEA\LNG found that LNG provides a greater ROI than alternative compliance solutions, including the installation of scrubbers, across five out of six fuel scenarios explored in the study. The study, released in January 2019, also highlighted a diminishing CAPEX hurdle, competitive energy costs, the stability of LNG pricing and the realistic cost of scrubbers.
It is no wonder that, according to figures from DNV GL, the LNG-powered fleet has grown from 118 ships in 2017 to 143 in operation at the start of 2019, with a further 135 on order and 135 LNG-ready ships either in operation or on order. These vessels range from tankers and cruise ships to ferries and containerships. Hand in hand with the newbuild spree is a build out of the LNG bunkering infrastructure required to fuel these new green ships: LNG bunkering is now available at 24 of the world's top 25 ports and investment is underway to ensure LNG is available at ports around the globe.
Those keen to learn more about the growing availability of LNG bunkering infrastructure should attend LNG2019, which begins on 1April in Shanghai, the first time the world's largest LNG event has been held in China. Aziz Bamik of GTT North America, an engineering company that specialises in LNG solutions, will update delegates on the first dedicated LNG bunker barge for the US marine market, while Philip Hagyard, VP - Commission A2 Liquefaction / Separation of Gases at IIR and Group Vice President, Gas Monetization at TechnipFMC, will moderate a session on downstream LNG infrastructure and applications, including the rapid growth of LNG as a marine fuel.
LNG2019 has confirmed more than 240 international speakers, who will take to the stage between 1 and 5 April to address industry professionals from all over the world. Confirmed speakers include the heads of some of the biggest players in the global LNG market, such as Darren W. Woods, Chairman & Chief Executive Officer of Exxon Mobil Corp., Ben van Beurden, Chief Executive Officer of Royal Dutch Shell Plc, Gazprom's Alexey Miller and Qatar Petroleum's H.E. Saad Sherida Al-Kaabi.
LNG2019 is also the only event where the industry will be able to see the heads of the big three Chinese energy giants on stage together in 2019, making this a must-attend event given that China is now the world's fastest growing LNG market. The confirmed speakers are Hua Yang, Chairman of China National Offshore Oil Corp. (CNOOC), Yilin Wang, Chairman of CNPC, and Zhongyun Liu, Vice President of Sinopec Group.
The full Conference Programme is now available on LNG2019's website.
Read the article online at: https://www.lngindustry.com/small-scale-lng/19032019/delegates-at-lng2019-discuss-preparations-for-imo-2020/
You might also like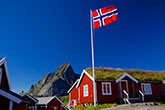 Equinor has announced that the gas leak that occurred at the Hammerfest LNG plant at Melkøya on 31 May 2023 has been stopped and normalisation is under way.