---
Golar Power Ltd has announced that it has formed a partnership with Petrobras Distribuidora S.A. (BR Distribuidora) for the development of an LNG distribution business in Brazil.
The aim of the partnership is to introduce LNG as an alternative fuel for the country's cargo and people transportation, industrial, thermoelectric generation, commercial and residential sectors.
BR Distribuidora has infrastructure and experience in the fuel distribution sector, while Golar Power will leverage its experience in the LNG industry. Together, the companies aim to facilitate the rapid development and implementation of small scale LNG solutions across the country.
According to the statement, the partnership expects to make use of BR Distribuidora's network of gas stations and supply bases, as well as Golar Power's LNG terminals and ships, to enable the comprehensive rollout of LNG supply to Brazil's transportation and industrial sectors, particularly in regions that are not supplied by gas pipelines.
In addition to this, BR Distribuidora, being a major user of road transport itself, also plans to replace its currently hired fleet of approximately 5000 trucks with LNG-fuelled vehicles. To this end, the company will seek to gradually replace its diesel truck fleet with LNG-powered trucks, with the ultimate goal that 20% of the total fleet will be replaced annually with LNG trucks.
Eduardo Antonello, Golar Power CEO, said: "We believe in LNG as the only viable fuel to replace diesel, LPG and HFO globally. The abundance of natural gas supply over the long-term and the price parity in relation to diesel and LPG, make LNG a real alternative – cheaper, cleaner and more effective in transportation and industrial use. Over the past few years, we have been working on the basic infrastructure to make a project of this scale feasible, and now we will have a robust partner that allows the penetration of a disruptive solution in a country of continental dimensions like Brazil. We are extremely satisfied with this partnership that has been in the making for some time and promises to be something truly transformational."
Read the article online at: https://www.lngindustry.com/small-scale-lng/19022020/golar-power-and-br-distribuidora-form-lng-partnership/
You might also like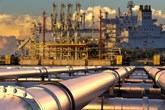 At every stage of the LNG process – from pretreatment to transportation – accurate and reliable measurements are essential for optimising production, maintaining safety, and ensuring profitability.