---
This summer, in a legal first for the French Mediterranean, a cruise ship captain was brought to trial for breaching the sulfur fuel limit during a stopover in Marseilles.
According to local media, the ship failed to comply with the European law against air pollution after using heavy fuel oil containing 1.68% of sulfur, exceeding the maximum allowed limit of 1.5%. If found guilty, the captain could be met with a €200 000 fine and up to a year in prison.
Although court cases like this are somewhat rare, the incident has become symbolic of Marseilles' ongoing battle with air pollution, and a need for cleaner, more environmentally-friendly bunker fuels.
For centuries, the Port of Marseilles has been one of France's most important maritime hubs, with a vast history stretching back more than 2000 years to its foundation by the Greeks in the 6th Century BC. Today, the port is the biggest contributor to the local economy, attracting millions of cruise passengers each year thanks to its idyllic position on the Mediterranean coast.
Local residents, however, are concerned that the heavy fuels burned by the giant cruise ships docking in the port are having an adverse effect on their health and the local environment. Indeed, estimates show that shipping accounts for 10% of the city's air pollution, with campaigners branding cruising as the main perpetrator.
Marseilles is not the only city where locals have protested against cruise ships docking in their ports. In an unofficial referendum held in Venice last year, 99% of nearly 20 000 Venetians who took part, voted to ban cruise ships from entering the city's lagoon. Similarly, a petition to stop the construction of a new cruise terminal in London's south-east side received more than 7000 signatures. The health of the cruise passengers themselves has also been a source of contention in recent years, with critics lamenting the high levels of nitrogen oxides on board ships. Last year, a UK-led investigation by Channel 4's Dispatches team found that passengers could be exposing themselves to dangerous levels of pollutions, even going as far as suggesting that some public areas on the ship's decks were more polluted than the world's most-affected cities.
These issues form a complex backdrop to what is now a booming industry, with more than 27 million holidaymakers expected to choose a waterborne vacation in 2018. The truth is that cruising has never been more popular, however the dispute surrounding the industry's use of heavy fuel oil (HFO) and consequential air pollution is fast becoming a sticking point.
With the 2020 sulfur cap less than two years away, and pressure from campaign groups showing no sign of letting up, the industry must now reinvent itself if it is to meet tighter emission regulations and ensure a clean and happy experience for both the passengers and the residents in the ports in which they dock.
The rise of LNG as a marine fuel
Back in 2015, German cruise line AIDA Cruises made international headlines when it successfully demonstrated that a cruise ship could be powered by LNG. This marked the beginning of an intense discussion about how cruise ships can adopt a greener operating model. Three years later, it seems that LNG's viability as a low-cost, low-emissions, alternative fuel has finally reached the cruise industry. At this year's Seatrade Cruise Global, the speakers on the Alternative Fuels panel agreed that the industry has now passed the 'tipping point' for LNG to fuel cruise ships.
Known as the world's cleanest burning fossil fuel, LNG offers a much more environmentally friendly alternative to diesel, and is now emerging as a viable solution to the stringent regulation laid out by the 2020 sulfur cap. With virtually zero NOx and particulate emissions, and 80 – 90% less SOx, LNG also promises a healthy on board experience for passengers and could go a long way to abating the rising friction in port towns such as Marseilles.
Currently, there are more than 18 LNG-powered cruise ships under construction – seven of which will be launched under the Carnival brand by 2022. Despite the huge demand for natural gas as a marine fuel, only 22 ports in the world are equipped with the infrastructure required for LNG bunkering and most of these are concentrated in North-West Europe and the US Gulf and East Coast. Therefore, to establish LNG as a standard for powering cruise ships, the industry needs to ensure that the infrastructure is there to support it on a global scale. Speaking at Seatrade Cruise Global, senior vice president of maritime affairs for Carnival Corp., Tom Strang, said that "making sure the fuel is where it needs to be is still a big challenge".
An evolving problem
Out of the 1.96 million holidaymakers from the UK and Ireland who went on a cruise holiday last year, 22 000 chose to travel to a more 'adventurous' destination, such as the Antarctic, Arctic, the Galápagos, Greenland, Iceland and North Cape – a 3% increase from the previous year.
These figures mark a notable shift away from traditional cruise itineraries centred around 'warm-weathered' destinations such as the Mediterranean and the Caribbean, towards more unconventional locations previously untouched by mass tourism. If you ask an industry commentator why this is, he or she might chalk it up to a rising demand for 'experiences' over 'stuff' – a trend that is helping fuel the growth of multi-million Euro start-ups like Uber, WeWork and Airbnb. This is especially true among rising numbers of millennial passengers, who seek unique adventures and unusual surroundings to capture on their smartphones.
Whether or not the result of a youthquake (Oxford University Press Word of the Year 2017, meaning a significant cultural, political or social change arising from the actions or influence of young people), it is clear that cruise ships are now steering well off the beaten track. This makes finding a solution to the LNG infrastructure problem even more challenging.
As cruising continues to move to new frontiers, pressure is mounting for ports to meet this growing demand and develop LNG bunkering facilities away from traditional bunkering hubs. Moreover, as the LNG-fuelled fleet continues to expand, it is crucial that new and existing infrastructure is able to accommodate a diversifying range of vessels.
Flexibility meets creativity in the transfer zone
Part of the answer to the infrastructure conundrum is cryogenic floating hose technology – a flexible alternative to traditional fixed infrastructure that has already proven itself in the field.
Last October, Trelleborg's oil and marine operation joined forces with Connect LNG and Natural Gas Fenosa to launch the world's first universal transfer system (UTS) – a floating platform designed to manoeuvre offshore to meet a vessel, rather than requiring it to moor at shore. The lighter, more flexible infrastructure utilises Trelleborg's Cryoline floating hose technology. The Cryoline LNG hose features a unique hose-in-hose design: the inner cryogenic hose, which consists of multiple polymeric film and woven fabric layers encapsulated between two stainless steel wire helices, provides resistance to internal pressure, while the outer hose provides protection from the environment. Fibre optic technology is incorporated into the hose to ensure real-time monitoring of the LNG transfer.
The UTS is a 'plug and play' solution, requiring no modifications to LNG vessels. By allowing a greater level of flexibility, it addresses an infrastructure challenge that is becoming increasingly vital to the evolution of the LNG market. This solves the problem by bringing the infrastructure to the vessel, reducing the need for extra construction, while also enabling transfer, or bunkering in areas that would be otherwise unsuitable – for instance, too shallow for carriers, or too deep to construct a jetty. It also allows transfer infrastructure to be relocated when out of use, or for maintenance, or brought into port to avoid damage from adverse weather, freeing up space and time in busy ports – a vital consideration for the cruise industry.
Significantly, the use of cryogenic hoses for LNG transfer also cuts down on the scale of the infrastructure required, and allows for easier installation and decommissioning. Particularly as the cruise industry moves to more ecologically sensitive areas, the ability to reduce environmental impact with lighter infrastructure grows in importance.
The short installation time adds to the success of the UTS. The initial project took only six months to set up, which is up to six times faster than a jetty, and up to 80% cheaper compared to traditional, fixed infrastructure.
Finding the middle ground
By rethinking the way cruise ships are run, the industry now has an opportunity to redefine the passenger experience and fulfil its obligations to the environment and local populations. There is a middle ground to be found and it seems that LNG holds part of the answer.
Over the next few years, LNG as a marine fuel will continue to gather steam, but it will take innovative solutions like the UTS to stop it from reaching a hard ceiling.
Read the article online at: https://www.lngindustry.com/small-scale-lng/16112018/cleaning-up-the-cruise-industry/
You might also like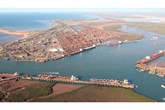 Pilbara Clean Fuels, Oceania Marine Energy, and RINA join forces in a collaboration to develop a low-carbon LNG production and marine bunkering concept in Port Hedland, Australia, aiming to change the maritime industry's environmental impact.