---
Speaking at the Gastech 2017 Conference and Exhibition, representatives from Sovcomflot lead a presentation focusing on the use of LNG as a promising fuel for large-capacity vessels.
In the run-up to Gastech, SCF Group and Shell signed a bunkering agreement for the supply of gas engine fuel for SCF's Aframax tankers specially designed to operate on LNG. These vessels will join the Sovcomflot Group fleet in June 2018, and will each have a deadweight of 114 000 t and be certified as ice class 1A.
Sergey Frank, the President and CEO of the company, said: "Aframax is one of the key size categories for tankers employed in transportation of liquid hydrocarbons. These are ships that are most in demand to cater for Russian oil exports. Sovcomflot and Shell are initiating the conversion of this segment of large-capacity tankers to gas engine fuel. Sovcomflot aspires to become a leader in the global transformation of maritime transport towards more efficient and environmentally friendly systems and technologies. The market is set a new standard of navigation safety and quality, which is especially important for the operation of ships in environmentally vulnerable areas of the world ocean."
In his report at Gastech, Frank also highlighted another project being implemented by the company. On 26 March, the SCF fleet gained the world's first ice-breaking LNG tanker, Christophe de Margerie. On 29 March, this vessel berthed at the gas terminal in the Port of Sabetta, Russia, and in so doing became the first vessel to do so. The tanker will serve the Yamal LNG project, and will transport LNG all year round in the icey conditions of the Kara Sea and the Gulf of Ob.
Frank noted that the development of this unique vessel has been the result of years of work by a large team of specialists from a number of companies, including: Sovomflot; Daewoo Shipbuilding & Marine Engineering (DSME); ABB; Wärtsilä; Aker Arctic; Yamal LNG; the Central Research Institute of Marine Fleet (CRIMF); and the Russian Registry of Shipping (RS).
The vessel's 45 MW propulsion system involves three Azipod units, which provide a high ice-breaking capability and manoeuvrability, as well as the ability to move stern-first (the Double Acting Tanker (DAT) concept), which is necessary in order to overcome hummocks and heavy ice fields. In addition to being powered by traditional fuels, the vessel's propulsion system is also capable of operating on LNG.
In his report, Frank noted that the vessel had surpassed a number of design targets during the ice trials. The vessel was able to move stern-first in 1.5 m thick ice at a speed of 7.2 knots (whilst the target figure was just 5 knots) and head-on a speed of 2.5 knots (whilst the target was just 2 knots). In the coastal area located west of the Nordenskiöld Archipelago, the vessel broke through an ice ridge with a height of 2 – 4.5 m above the ice, a keel depth of 12 – 15 m and a cross sectional area of 650 m2, moving stern-first.
Read the article online at: https://www.lngindustry.com/small-scale-lng/10042017/sovcomflot-promotes-lng-as-a-fuel-for-large-capacity-vessels/
You might also like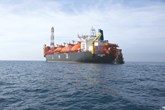 OLT Offshore LNG Toscana has received authorisation to increase its annual regasification capacity from the current 3.75 billion m3/y to approximately 5 billion m3/y.