---
Puget LNG, the sister company of Puget Sound Energy (PSE) established to market and sell LNG from the Tacoma LNG facility, has signed a contract to supply LNG to Potelco, Inc. and InfraSource Services, LLC, both operating companies of Quanta Services, Inc. to fuel their electric and natural gas system construction trucks.
Under the terms of the agreement, Puget LNG will provide more than 1 million gal./yr of LNG for five years.
According to the statement, Potelco and InfraSource have a combined fleet of over 220 vehicles that operate on LNG. Both companies are also adding additional LNG vehicles to their fleet. These are the same trucks that PSE customers see every day doing heavy electric and natural gas system construction. As a service provider to PSE, they perform the day-to-day work building and maintaining the electric and natural gas systems, including working around the clock to restore power after a storm.
Puget LNG claims that Potelco and InfraSource have been using LNG in their service vehicles since 2013. However, without a local source of LNG, they have been forced to transport the fuel from locations outside of the state of Washington.
Jonathan Harris, Senior Business Development Manager, said: "Working with Potelco and InfraSource, local employers, to provide their needed LNG is a win for everyone.
"Having a cleaner fuel alternative is an important piece of the GHG emissions reduction puzzle, since over 40% of carbon emissions in our state comes from transportation."
Mark Swanson, Executive Vice President for Potelco, said: "The implementation of LNG-fuelled trucks was the right choice for many reasons.
"When we heard that our partner, Puget Sound Energy, was going to build an LNG plant, we wanted to support that effort. In doing so, we are also reducing the diesel emissions that our employees are exposed to every day and we're doing our part to protect the environment for generations to come."
According to the statement, Potelco and InfraSource will start receiving LNG when the Tacoma LNG facility is operational, which is scheduled to occur next year.
Read the article online at: https://www.lngindustry.com/small-scale-lng/09012020/puget-lng-set-to-provide-lng-fuel-to-potelco-fleet-vehicles/
You might also like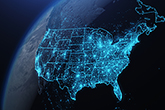 A Seapath and Pilot LNG joint venture will develop, construct, and operate a terminal in the Galveston Bay area supporting LNG-powered vessels.