---
Avant Energy has announced that the doors of a new power generation facility in Minnesota, US, have been opened to the public.
Avant Energy and its partner, the Minnesota Municipal Power Agency (MMPA), invited residents from the area to view and explore MMPA's Shakopee Energy Park 46 MW natural gas-powered facility.
Shakopee is a community of over 40 000 people, and is located approximately 20 miles southwest of Minneapolis. Avant Energy is MMPA's long-time management partner, and was responsible for planning, developing and carrying out supervised construction of the facility. It now also handles operations management.
John Crooks, Shakopee Public Utilities Manager and Chairman of the MMPA Board of Directors, said: "Shakopee Energy Park is part of MMPA's commitment to clean, efficient power generation.
"I have been told that residents did not even know that we were up and running and we have been operating since February."
The facility makes use of silencers on every engine, as well as sound-absorbing construction materials to stop noise reaching neighbouring property.
Derick Dahlen, the President and CEO of MMPA's management partner, Avant Energy of Minneapolis, added: "Shakopee Energy Park is good for every MMPA community because it provides power supply flexibility and protects our members against price volatility in the marketplace."
Dahlen also noted that, as well as power supply, MMPA also supports its member communities by providing annual educational programming at its power generation facilities.
During a tour of the facility, local residents learned the following facts:
Shakopee Energy Park utilises five 9.3 MW Wärtsilä engines to produce electricity.
The plant is capable of starting up in just a few minutes – an important complement to renewable generation sources, such as wind and solar, which are intermittent.
The facility was built in under a year. Construction work was finished both on schedule and on budget.
An advantage of LNG as a back-up fuel is that the generators maintain comparable efficiency as when fuelled by natural gas.
Waste heat, which is captured from the engines, is used to heat the plant, and could in future be utilised by businesses in the area to support economic development.
Read the article online at: https://www.lngindustry.com/small-scale-lng/08082017/new-power-generation-facility-in-minnesota-opened-to-the-public/
You might also like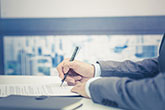 Congo's Ministry of Hydrocarbons has signed a co-operation agreement with Technip Energies that will see the parties expand cooperation in the fields of offshore and onshore energy developments.