---
Total has released a statement claiming that it has signed an assets package agreement with Petrobras in the framework of their strategic alliance that was announced in October 2016.
This agreement strengthens the two parties' partnership and cooperation in the upstream and downstream sectors, covering research, technology and operations.
In the upstream, technical cooperation will be reinforced between both parties, including joint assessment of the exploration potential in key prospective areas in Brazil and the development of new technologies.
In addition to this, Total will become partner to Petrobras in two high-quality pre-salt licenses of the Santos basin. These are the BMS-11 with the lara fields currently under development, where Total will acquire a 22.5% interest from Petrobras, and the BMS-9 with the lapa field, which has just entered into production, and where Total will become the operator of the license with the acquisition of a 35% interest from Petrobras. Both parties will use their experience in deepwater to jointly develop solutions for long subsea tiebacks, reservoirs with high CO2 content and digital geosciences data management. In addition to this, Total will provide the Petrobras with the option of taking a 20% stake in the Perdido Belt deepwater exploration Block 2 recently awarded in Mexico.
In the downstream, Total will provide its experience to Petrobras by entering the integrated gas and power market in Brazil. Total will acquire some regasification capacity from Petrobras in the Bahia LNG terminal, and a 50% interest in two co-generation plants located in the Bahia area, as well as pipeline transport capacity, allowing Total to supply gas to the two co-generation plants.
Patrick Pouyanné, Chairman and CEO of Total, said: "I am delighted today to see the concretisation of our strategic alliance with Petrobras. These agreements will reinforce Total's position in Brazil through access to outstanding pre-salt resources while entering the promising gas value chain. I'm confident that both companies will be able to create significant value by sharing their technical expertise, leveraging operational excellence and further reducing costs."
Under the assets package deal terms, the acquisition of upstream and downstream interests in Brazil from Petrobras will represent a global value of approximately US$2.2 billion, made of cash, carry and contingent payments. The deal remains subject to the signing of sale and purchase agreements (SPAs), as well as relevant regulatory approval and the partners' pre-emption rights only on the lara transaction.
Read the article online at: https://www.lngindustry.com/regasification/22122016/total-and-petrobras-sign-assets-package-agreement/
You might also like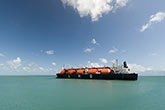 Furetank has turned a former office building into a maritime educational centre with a simulator complex for training, assessment, and certification in Donsö, Sweden.