---
Golar LNG Ltd has announced today that Golar Power Ltd – a 50/50 joint venture with Stonepeak Infrastructure Partners – has been awarded a 25-year power purchase agreement (PPA) for the construction of a 605 MW combined cycle thermal power plant.
The agreement was awarded at the 2019 A-6 New Energy Auction held on 18 October by the Brazilian National Electric Energy Agency – ANEEL.
According to the statement, the project will be developed by Centrais Eletricas Barcarena S/A (CELBA) – a special purpose company 50% controlled by Golar Power. Located in Barcarena, State of Pará, the plant will utilise imported LNG for the generation of electricity using modern H-Class gas turbines, which will then be distributed to the Brazilian national electricity grid through the existing Vila do Conde Substation located nearby. Golar claims total investments for the power project are estimated at US$430 million, of which Golar LNG's share is US$107 million. CAPEX will be funded through debt and equity between 2022 and 2025, with the equity portion expected to come from proceeds of the first wave of small scale distribution in Golar Power.
Golar claims that the PPA has been awarded with a pool of nine different power distribution companies, and is expected to generate fixed annual revenues of US$174 million (BRL711.7 million) for 25 years starting on 1 January 2025. Payments under the PPA are inflation indexed, and provide for pass-through of fuel costs to the PPA counterparties.
In connection with the PPA, Golar Power claims that it is anticipating accelerating investment in a new LNG terminal at the Port of Vila do Conde, which is also located in Barcarena. This facility will be wholly operated by Golar Power and will provide a floating storage and regasification unit (FSRU) for 25 years to supply the project. According to the statement, it is expected that the terminal will commence operations by mid-2021, and is located in a strategic entry point in the North region of Brazil, which will be used as a hub to enable the distribution of LNG and supply of natural gas for electricity generation, commercial and industrial customers, transportation and bunkering well in advance of the power project commencement. FSRU selection and detailing of the terminal are currently under way, with an anticipated final investment decision (FID) in 1H20.
Golar Power CEO, Eduardo Antonello, said: "We are extremely excited with the Barcarena Project, that's amongst the most strategic LNG developments across the entire world. For decades this whole region has been starving for cleaner and cheaper energy, right at the centre of one of the most prominent natural resource basins in the globe. The energy hub that will be introduced by Golar Power in the State of Pará has the potential to supply an area larger than Western Europe, with millions of kilometres of river navigation routes. We've been working for over three years on this endeavour, whilst also mapping the potential LNG applications such as road and river transportation, mining, agriculture, industries as well as large populational areas, and now it has become a reality. Considering the environmental and social benefits, our project has the potential to displace very large volumes of diesel, coal, LPG and heavy fuel oil (HFO) consumption with cheaper LNG, allowing significant reduction of greenhouse gas emissions and creating unique technical and economic development opportunities for the local populations."
Golar LNG CEO, Iain Ross, added: "The award of this new project supports our current strategy to transform Golar LNG into a world leading LNG infrastructure player delivering cheaper and cleaner energy solutions supported by cash flow from long term contracts."
Read the article online at: https://www.lngindustry.com/regasification/21102019/golar-power-awarded-ppa-for-605-mw-lng-to-power-project/
You might also like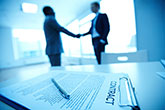 OMV has announced the signing of a long-term sale and purchase agreement with Cheniere Energy, Inc., covering the supply of up to 850 000 tpy of LNG beginning in late 2029.