---
Skangas has announced that it has entered into an agreement with cement manufacturer Finnsementti, under which Skangas will supply LNG to the Raahe blast-furnace slag plant for production process use.
Finnsementti will use the LNG in the cement production process to dry aggregates. The energy switch from heavy oil to LNG will improve the efficiency rate and reduce the company's carbon dioxide emissions.
The LNG will be delivered by road tanker from the Tornio Manga LNG terminal, which is co-owned by Skangas. Before it is used, the LNG will be regasified on-site. The technical services team of Skangas' parent company, Gasum, will be responsible for designing and implementing the equipment deliveries and installations relating to the introduction of LNG at the blast-furnace slag plant.
Finnsementti Production Director, Jussi Puustinen, said: "Sustainable development is an essential part of our company's operations. We believe that in the near future LNG will be a more secure, more competitive and, above all, a cleaner fuel from the environmental perspective in comparison with heavy fuel oil. LNG will improve our process efficiency and reduce the carbon dioxide footprint of our production."
Skangas Sales Manager, Jouni Bedda, added: "We're pleased that Finnsementti chose LNG as the energy form for its production. LNG's versatile characteristics come into their own in various industrial process applications. We offer environmentally friendly LNG for a diversity of industrial needs from the Tornio Manga LNG terminal in Northern Finland. From Tornio we're able to serve industry, mining operators, maritime transport and heavy-duty road transport throughout the Bothnian Bay area as well as Northern Finland, Sweden and Norway."
Read the article online at: https://www.lngindustry.com/regasification/15082018/skangas-reaches-lng-supply-agreement-with-cement-manufacturer/
You might also like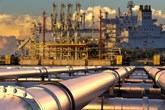 At every stage of the LNG process – from pretreatment to transportation – accurate and reliable measurements are essential for optimising production, maintaining safety, and ensuring profitability.