---
AB Klaipedos nafta (KN) has announced that Mindaugas Jusius, CEO, has decided to leave the organisation due to personal reasons.
Jusius was appointed as CEO of KN at the beginning of 2017. Previously, he served as an independent member of the board of the company, and also worked at the KN Audit Committee. He will continue to act as CEO of the company until the end of July this year.
Jusius said: "It was a tough decision to make as I have been cooperating with KN for almost 10 years and I am proud of the results achieved by the company. Over the last two years alone, there have been several significant changes that have led to sustainable future growth. Strategic projects are already delivering tangible results. In July, an important phase of Klaipeda LNG terminal project will be implemented and it will allow us to reduce the cost of security of supply for consumers and provide the basis for a long-term LNG supply to the region. In May, an important stage of development of Klaipeda oil terminal was completed – an additional tank park was launched thus expanding the possibilities of oil product reloading. In addition, KN strategy for the next decade will be approved by the end of the summer. Together with the team we have achieved important organisational changes that have contributed significantly to the reputation of KN as an employer. Currently KN is a strong, modern and competitive organisation. The decision was not easy, but I think it is the best time for this kind of change, so that newly appointed CEO of the company could start with the new development stage of the company."
Giedrius Dusevicius, Chairman of the Board of KN, added: "Of course, on behalf of the board, I would like to thank M. Jusius for his sincere and strong leadership in the company. The company employs excellent employees, competes very successfully in the oil product transhipment market, actively develops the business infrastructure, boldly goes into the global LNG infrastructure market. The company's business is not only stable but also promising as the long-term strategy is currently being finalised. Decision of M. Jusius is understandable, and we will launch a selection process of the candidate for the position of KN CEO soon."
Žygimantas Vaiciunas, Lithuanian Minister of Energy, said: "His activities will lead to high expectations from the new CEO. KN is a strategic company, so the new CEO will have to ensure not only the continuity of activities and ongoing projects, but also to take on even greater challenges – to establish the company in the global market by developing and operating LNG terminals."
Read the article online at: https://www.lngindustry.com/regasification/10062019/ab-klaipdos-nafta-announces-departure-of-ceo/
You might also like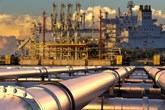 At every stage of the LNG process – from pretreatment to transportation – accurate and reliable measurements are essential for optimising production, maintaining safety, and ensuring profitability.