---
Trelleborg has released a statement claiming that it will discuss SmartPort at Gastech in Barcelona (17 – 20 September 2018), in addition to showcasing its range of LNG transfer technologies.
As part of Gastech's main conference program, Andrew Stafford, Technical Director at Trelleborg's marine systems operation, will also present a technical paper discussing the latest in Ship-Shore Link (SSL) technology. Vincent Lagarrigue, Director of Oil & Marine Hoses at Trelleborg's oil and marine operation will also present a technical paper that outlines how cryogenic floating hose technology is unlocking new possibilities in small to medium scale transfer and LNG bunkering.
On stand, representatives from Trelleborg's marine systems operation will be available to talk about SmartPort, a technology platform that powers the critical interface between ship and port, on land and at sea. The platform connects port operations, enabling operators to analyse asset performance and use data to improve decision-making. The system integrates assets such as fenders, mooring equipment, ship performance monitoring, and navigation systems through a network of sensors.
Trelleborg's oil and marine operation will highlight how its Cryoline floating cryogenic hoses technology is transforming LNG transfer operations in both near-shore and offshore environments. Cryoline technology was developed to address pressing infrastructure challenges in the LNG market, allowing turnkey projects that drastically reduce the CAPEX and environmental impact of LNG import infrastructure. It also opens up new locations to ship-to-shore and ship-to-ship transfer, even in challenging weather conditions, and increases safety and operability of FLNG loading and offloading by enabling transfer in tandem configuration.
Richard Hepworth, President of Trelleborg's marine systems operation, said: "From traditional terminals to bunker barges and everything in between, project requirements vary substantially, inviting varied solutions and complicating interface management at transfer touchpoints. Optimising the interface is critical to supporting the business model of every LNG transfer operation. This means consistent communication and standardized processes at every transfer point.
"Trelleborg is able to provide the most integrated and configurable solutions at every interface of the LNG transfer operation. However, realising the critical interface between ship and port, on land and at sea, SmartPort provides a unique overview of the 'vessel turnaround' process, and data extraction points throughout it – both on board the vessel and in the port, and in the interface between the two. Gastech provides the ideal platform to educate those across the LNG transfer chain about the importance and potential of this interface in optimising return on investment, safety and efficiency."
In the statement, Trelleborg also claims that it will exhibit a number of solutions within the company's SmartPort portfolio. These include: AutoMoor, a rope-free automated mooring system for smarter, safer and more efficient berthing operations; SafePilot, a new generation of piloting and navigation software; and Integrated SSL and Emergency ShutDown System (ESDS) for both large and small scale LNG transfer and fuelling. Trelleborg claims that it will also showcase its Quick Release Hooks (QRH), which allow mooring lines to be safely secured and quickly released; as well as its SmartDock Laser Docking Aid System for vessel approach and berthing operations.
In addition to the latest in SSL technology, Stafford's session will highlight how close co-operation between all parties has enabled Q-LNG to develop their LNG bunkering project from the early adoption for the Harvey Gulf OSV fleet through to the latest requirements for fully flexible bunker vessels. The presentation will also discuss how process safety is improved and training is facilitated by using digital fibre optic link technology with redundancy to ensure compatibility with ESD systems, telephony and cargo process data from any LNG fuelled vessels.
Together, Trelleborg claims that these technologies enable revolutionary new models and thinking for LNG transfer, unlocking new possibilities throughout the transfer zone. Lagarrigue's session will explore how this was demonstrated in September 2017, when technology from both operations was used in the first sea launch of the Universal Transfer System (UTS), a plug-and-play turnkey developed with Connect LNG. The success of this launch demonstrated the vast potential for new infrastructure possibilities that Trelleborg's technology enables.
For more information about Trelleborg's marine systems operation or any of its products, visit stand K160 at Gastech.
Read the article online at: https://www.lngindustry.com/product-news/29082018/trelleborg-to-showcase-range-of-lng-technologies-at-gastech/
You might also like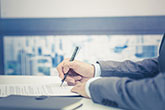 Congo's Ministry of Hydrocarbons has signed a co-operation agreement with Technip Energies that will see the parties expand cooperation in the fields of offshore and onshore energy developments.