---
Seaside LNG, an LNG production and maritime transportation logistics provider, has announced its industry support of SEA-LNG, the multi-sector industry coalition established to demonstrate the benefits of the LNG pathway for shipping's decarbonisation.
Seaside LNG is the only company with integrated shoreside liquefaction, LNG storage, and bunkering capabilities in North America. The company maintains the largest fleet of Jones Act-compliant LNG barges in North America and has successfully performed more than 400 safe LNG transfers. Seaside LNG will further enhance the SEA-LNG coalition's collective expertise with their valuable supply, infrastructure, and safety experience.
Scaling up alternative fuel supply and developing the required infrastructure is key to the success of the shipping industry's decarbonisation transition, with collaboration highlighted as central to success. This was reiterated in recent industry discussions at Gastech in Singapore and London International Shipping Week. SEA-LNG offers Seaside LNG and all its members a practical platform for collaboration across the entire LNG value chain.
Tim Casey, CEO of Seaside LNG, noted: "LNG infrastructure must continue to grow rapidly to further develop and maintain a global LNG supply chain. Improving commercial scale solutions for marine fuel is critical to meeting the industry's environmental goals while keeping pace with the world's rising commercial demands. We look forward to joining SEA-LNG as we continue our mission to develop vital LNG infrastructure."
Peter Keller, Chairman of SEA-LNG, added: "Green fuel solutions will not arrive in a big-bang process; instead, we will see the incremental decarbonisation of existing assets as fuel production, transportation, storage and bunkering infrastructure, and engine technologies develop. In Seaside LNG, we have another valuable member to help us continue to evolve and progress the LNG pathway to decarbonisation. We are very pleased to welcome the Seaside LNG team onboard."
Existing LNG infrastructure can transport, store, and deliver bio-LNG, as well as renewable synthetic e-LNG. Fuels can be blended with fossil LNG or used as a drop-in fuel for LNG-fuelled vessels to reduce emissions further without any additional investment in vessel or infrastructure modifications.
While the recent industry discussions of infrastructure and the introduction of these green fuels are important, existing local emissions benefits must not be overlooked. Local emissions are another major environmental concern around the world. LNG is the only scalable marine fuel available today that significantly reduces carbon emissions.
Casey concluded: "We are proud to join SEA-LNG because LNG in place of traditional fuel delivers substantial environmental and public health benefits – dramatically lowering emissions of nitrogen oxides, sulfur oxide, carbon dioxide, and particulate matter."
Read the article online at: https://www.lngindustry.com/lng-shipping/27092023/seaside-lng-joins-sea-lng/
You might also like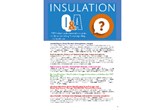 LNG Industry asked several companies to discuss some key factors regarding LNG insulation in our recent November 2023 issue of the magazine.