---
NYK has participated as a key partner in the Methane Abatement in Maritime Innovation Initiative (MAMII), an initiative to reduce methane emissions in the maritime industry.
MAMII is led by Safetytech Accelerator, a non-profit organisation established by Lloyd's Register Group. Since MAMII's establishment in September 2022, 16 companies and organisations, including NYK, have participated.
In its first year, the initiative has produced a methane strategy landscape report covering methane regulatory requirements, 'Well to Tank' and 'Tank to Wake' analysis, and cost benefit analysis.
Since LNG fuel can reduce carbon dioxide emissions by 25% compared to conventional heavy oil fuel, NYK has positioned LNG fuel as one of the bridge solutions until the realisation of zero-emission ships in the future and is thus promoting the use of LNG-fuelled vessels. On the other hand, methane slip, methane gas emissions from LNG into the atmosphere, is a critical issue for reducing greenhouse gas.
NYK has been the first to adopt a next-generation dual-fuel engine that can reduce the amount of methane slip by about half compared to conventional systems. In addition, NYK has been actively working to reduce further the environmental impact of LNG-fuelled vessels, such as the introduction of shaft generators that can generate electricity using the rotation of the shaft connected from the main engine to the propeller during voyages and the battery hybrid system, which contributes to the efficient operation of the main engine and power generation engine.
Through its participation in MAMII, NYK will contribute to decarbonising the maritime industry through co-creation with partners who share the same goals and issues.
Read the article online at: https://www.lngindustry.com/lng-shipping/20092023/nyk-participates-in-mamii/
You might also like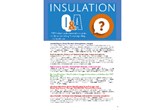 LNG Industry asked several companies to discuss some key factors regarding LNG insulation in our recent November 2023 issue of the magazine.