Fluxys activity at Zeebrugge LNG import terminal
---
Fluxys Belgium has reported that in Q1 2014, nine carriers were unloaded and five were loaded at the Zeebrugge LNG terminal.
According to the company, the Zeebrugge LNG terminal remains attractive. Due to the relative surplus of natural gas in the European market and high LNG prices in Asia and South America, most LNG terminals in Northwest Europe are experiencing low levels of activity. However, thanks to its versatile offering, the Zeebrugge LNG terminal enjoyed a comparatively strong first quarter.
Ship loading and unloading
In the first three months of the year, nine carriers were unloaded and five were loaded. This compares with eight and five carriers respectively in the same period last year.
Truck loading services
Take-up of truck-loading services continues to rise, with 363 trucks loading at the terminal in Q1 2014 compared with 126 in the same period last year. Over 1900 loadings have been booked for the year as a whole, compared with 819 last year.
LNG station in Veurne
In February 2014, Fluxys decided to build an LNG truck filling station in Veurne on the premises of haulage company Eric Mattheeuws, which has purchased a fleet of LNG trucks. The initiative is a milestone in the launch of LNG as a sustainable alternative fuel for trucks in Belgium.
Additional transshipment services
In April 2014, Yamal LNG and Fluxys signed an agreement outlining the parameters of cooperation on the possible transshipment at Zeebrugge of LNG supplied from the production plant being built on the Yamal Peninsula in Russia. The transshipment platform in Europe will be an integral part of the logistical chain enabling LNG supply from Yamal to reach the Asian-Pacific countries when winter navigation is closed at the Arctic Ocean's Northern Sea Route, ensuring year-round LNG supplies to this region.
If Fluxys Belgium succeeds in attracting LNG transshipment operations to the Zeebrugge terminal, this would be an important project for the company itself and for the port of Zeebrugge. It would bring considerable investment to the terminal, link the facility to an additional source of LNG and entail a significant volume of ship movements.
Investments
Fluxys Belgium plans to invest a total of €95 million in infrastructure in 2014. Infrastructure spending in Q1 2014 totalled around €16 million. The two largest projects are:
A second jetty for loading and unloading LNG carriers is currently under construction at the LNG terminal. Ships with capacities ranging from 2000 to 217 000 m3 of LNG will be able to berth at this new jetty from 2015, including bunker ships which load LNG to supply other vessels fuelled by LNG.
In and around Ghent, Fluxys Belgium is restructuring and upgrading its pipeline network to continue to efficiently safeguard supply to the region.
New tariff methodology
In 2014, CREG will establish a definitive tariff methodology for the transmission, storage and LNG terminal activities of Fluxys Belgium and its subsidiary Fluxys LNG. The new tariff methodology is expected to be ready by late 2014 and will take effect as from the next regulatory period (2016-2019).
Adapted from press release by Katie Woodward
Read the article online at: https://www.lngindustry.com/lng-shipping/14052014/fluxys_lng_activity_at_zeebrugge_585/
You might also like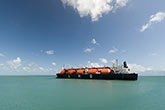 Furetank has turned a former office building into a maritime educational centre with a simulator complex for training, assessment, and certification in Donsö, Sweden.