---
AB Klaipedos nafta has announced its unaudited financial results for H1 2018.
AB Klaipedos nafta's revenues for H1 of 2018 comprised €52.7 million; 0.8% higher compared to the same period in 2017 (€52.3 million).
The company's net profit for H1 2018 amounted to €10.2 million; a 38.2% increase compared to H1 of 2017 (€7.4 million). Net profit margin for the first half of 2018 comprised 19.4% (H1 2017 – 14.1%).
The company's EBITDA for H1 2018 amounted to €17.2 million; i.e. 13.3% higher than in H1 2017 (€15.2 million). EBITDA margin for H1 2018 was 32.7% (H1 2017 – 29.1%).
Management comment:
"[H1] 2018 has been a financial success for KN, which is particularly encouraging in the context of organisation's goals. During the said period the company succeeded in avoiding negative factors, in particular those related to the oil product loading market and the macroeconomic environment, which has led to excellent results in the operation of oil terminals. Besides, implemented infrastructure projects, which have required substantial efforts, have already produced tangible results."
"The growth in the key financial indicators has been caused not only by balanced freight flows, but also by efficiently controlled costs of terminals, ongoing investment projects, and streamlined internal processes. Return on equity (counting result of the last 12 months) of the KN reached 10.3% (5.0% in the corresponding period of the previous year)."
"During [H1] 2018 LNG terminal regasification and reloading volumes (4.5 million MWh) [were] lower by 7.2% [compared to H1] 2017. [This was caused by] higher global prices of LNG and therefore lower reserved capacities. The sales revenues of [our] LNG terminal in H1 2018 comprised €32.46 million… 7.2% [lower] compared with [H1] 2017. The activity of [our] LNG terminal is regulated therefore revenue of LNG activity does not depend on re-gasification volume."
"Having started in late 2017 with small scale operations by loading LNG trucks at the LNG reloading station, Klaipeda LNG terminal has become the first floating LNG terminal worldwide which provides all integrated LNG logistics services: LNG reloading, storage, gasification, [and] supply by land and sea. After the construction of the LNG reloading station is over, the development of commercial activities [for] this infrastructure will face major works and challenges, and the first operations related to these services make us rather optimistic in terms of quality."
"The results achieved in [H1] 2018 encourage us to continue to strive for the defined strategic goals: To increase added value both in respect of the company and the main shareholder – the state of Lithuania – and to pursue an even more efficient growth by improving internal processes and implementing the investment projects envisaged in the company's strategy for 2016 – 2020."
"We are proud to have such professional and motivated KN employees who can jointly face and overcome the greatest challenges, and in order to maintain strong motivation we will continue focusing on the strengthening of our organisational culture."
"Another important goal for this year is related to the preparation of the plan of environmental measures for terminals as well as its further implementation. According to the plan for 2020 we are planning to invest €4.4 million for environmental measures."
Read the article online at: https://www.lngindustry.com/liquid-natural-gas/31072018/ab-klaipdos-nafta-releases-h1-results/
You might also like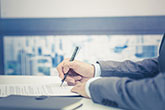 In its efforts to further boost natural gas utilisation in the country and enhance Nigeria's gas revenue, NNPC Ltd has signed two major agreements to deliver LNG to the domestic gas market and the international LNG market.