---
The AES Corporation has agreed to minority sell-downs of its businesses in the Dominican Republic and Panama, as an expansion of its existing strategic partnership with Grupo Linda and a new partnership with Grupo Popular's subsidiary, AFI Popular, through one of its closed end funds.
"We gain tremendous value from partnering with strong local players who provide valuable support as we transition our businesses in both markets," said Juan Ignacio Rubiolo, AES Executive Vice President and President, Energy Infrastructure Strategic Business Unit. "We have enjoyed a productive partnership with Grupo Linda since 2014, and we look forward to close collaboration with AFI Popular as we continue to unlock new sources of value."
The sell-down agreements will provide collective proceeds of US$190 million to AES, putting the xompany on track to achieve its asset sale proceeds target for the year. As a result, AES has secured all external funding included in its 2023 capital plan, which is comprised of the proceeds from these sell-down agreements, plus those from other transactions announced earlier this year, such as the Warrior Run power purchase agreement termination, and the issuance of US$900 million of senior notes in May, priced at 5.450%.
"We take a strategic and systematic approach to asset sales," added Joel Abramson, AES Senior Vice President of Mergers & Acquisitions and Strategy. "With these transactions, we are not only executing on our asset sales programme, but also expanding local partnerships that support the strategic objectives of our businesses to maximise value."
The agreements announced today include the sale of 10% of AES' business in the Dominican Republic to Grupo Linda and Grupo Popular's subsidiary, AFI Popular. AES' businesses in the Dominican Republic include an LNG regasification terminal, with a 160 000 m3 LNG capacity storage tank, the AES Andres 319 MW combined cycle gas turbine plant, DPP 328 MW combined cycle gas turbine, as well as an additional 150 MW of solar and wind power plants.
The announcement includes the sale of 20% of AES Colón in Panama, also to Grupo Linda. AES Colón includes a 381 MW combined cycle gas turbine with an adjacent regasification facility that has a 180 000 m3 LNG capacity storage tank.
Read the article online at: https://www.lngindustry.com/liquid-natural-gas/29092023/aes-sells-stake-in-dominican-republic-and-panama-lng-businesses/
You might also like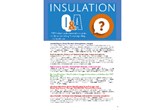 LNG Industry asked several companies to discuss some key factors regarding LNG insulation in our recent November 2023 issue of the magazine.