---
The Qatar Petroleum President & CEO, Saad Sherida Al-Kaabi, has said that Qatar Petroleum has lived up to its international reputation as a reliable and trustworthy energy producer at all times and under all circumstances.
Speaking at the 27th World Gas Conference in the American Capital Washington D.C., Al-Kaabi said Qatar Petroleum is moving forward with its plans to increase Qatar's LNG output by 30% – from 77 million to 100 million tpy. He said "this will be a major milestone towards securing future LNG supplies to meet rising global demand."
Al-Kaabi said the contracts for the production expansion project would be awarded by the end of next year, while the 100 million tpy production target would be met by the end of 2023.
Al-Kaabi made the remarks during a high profile session entitled 'The Biggest Challenges and Opportunities Facing the Global Gas Industry', and with the participation of Bob Dudley, BP Group Chief Executive, Patrick Pouyanné, Total Chairman & CEO, Ryan Lance, ConocoPhillips CEO, and Jens Økland, Statoil's Executive VP for Marketing, Midstream, and Processing.
In addressing the challenges facing the LNG industry, Qatar Petroleum's President & CEO said "Human beings need energy. Gas should be seen as a destination fuel not just as a transition fuel."
Al-Kaabi stressed the need for serious action by some consuming countries for the establishment of receiving LNG terminals. He also highlighted the importance of additional effort to tackle infrastructure issues within consuming countries to enhance easier access to this environmentally friendly fuel.
"LNG is a capital intensive industry that requires the ability to make investment decisions," Al-Kaabi said in his keynote address. "It requires long-term financial commitment by consumer countries to secure long-term offtake agreements and supplies," he added.
Al-Kaabi also tackled the opportunities that lie ahead in the LNG industry by placing emphasis on the rising demand for LNG as the cleanest of hydrocarbon fuels. He said there is room for growth in which everyone can have a place.
Qatar Petroleum's President & CEO later responded to questions from the session's moderator Maria van der Hoeven, the Former Minister of Economic Affairs of the Kingdom of the Netherlands, on a number of issues related to the global gas industry.
He highlighted Qatar Petroleum's commitment to meet future global demand for clean energy as a reliable and trustworthy energy producer.
Read the article online at: https://www.lngindustry.com/liquid-natural-gas/28062018/qatar-petroleum-moving-to-increase-qatars-lng-output/
You might also like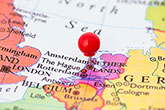 VTTI and Höegh LNG have signed an agreement to jointly explore options to develop and operate Zeeland Energy Terminal, the Netherlands.