---
TechnipFMC plc has reported 1Q19 results.
Total company revenue was US$2.9 billion. Net income was US$20.9 million, or US$0.05 per diluted share. These results included after-tax charges and credits totalling US$6.4 million of expense, or US$0.01 per diluted share; adjusted diluted earnings per share were US$0.06.
Adjusted EBITDA, which excludes pre-tax charges and credits, was US$295.8 million; adjusted EBITDA margin was 10.2% (Exhibit 7).
Other significant pre-tax items impacting the quarter included the following:
US$11.6 million of foreign exchange losses included in corporate expense, or US$0.02 per diluted share on an after-tax basis.
US$84.7 million of increased liability payable to joint venture partners included in interest expense, or US$0.19 per diluted share on an after-tax basis.
Doug Pferdehirt, CEO of TechnipFMC, stated, "Quarterly orders of US$6.2 billion were our highest since the fourth quarter of 2014. This reflects the strength of our integrated subsea model, our demonstrated capabilities in downstream and gas monetisation, and continued growth in international surface markets. With total company book-to-bill of 2.1 in the quarter, backlog grew 22% sequentially to US$17.8 billion."
"In Onshore/Offshore, we continue to execute well and achieved notable project milestones during the period. Orders of US$3.1 billion were more than double our revenues in the quarter, driven by major downstream and offshore projects. Additionally, we are prioritising five LNG projects that are most strategic to TechnipFMC and offer the highest probability of successful execution."
"In Surface Technologies, weaker-than-expected activity in North America significantly impacted our quarterly results and has led to a change in the market outlook. We no longer anticipate the recovery in North America as originally forecasted. Outside of the Americas, our expectations remain unchanged at high-single digit to low-double digit activity growth."
Pferdehirt continued, "Strong Subsea orders of US$2.7 billion resulted in a book-to-bill of 2.3, driven by an increased contribution from integrated EPCI (iEPCI™). Our integrated FEED (iFEED™) capabilities serve as a key differentiator and have been instrumental in securing new iEPCI™ awards. The number of new iFEED™ studies nearly doubled in 2018. Many of these are proprietary, providing an exclusive opportunity set to TechnipFMC."
"In the first four months of 2019, we have secured seven new integrated projects, representing an aggregate contract value of US$1.4 billion. This expansion of our integrated portfolio includes projects from BP, Lundin, ENI and ConocoPhillips – all first-time iEPCI™ adopters. Given this early success and our expanding opportunity set, we are confident that iEPCI™ project awards will exceed 25% of our Subsea order inbound in 2019."
Pferdehirt concluded, "Our company has returned to growth, and we are well-positioned to benefit from the recovery underway in many of our key end-markets. Our strong balance sheet ensures that we have sufficient capital to grow the business, while supporting our commitment to return excess capital to shareholders. When these actions are combined with strong operational execution, we can drive our capital returns higher over time. This focus on shareholder capital has been a part of management compensation since the formation of TechnipFMC, and it reflects how we will continue to manage our balance sheet and our business going forward."
Read the article online at: https://www.lngindustry.com/liquid-natural-gas/26042019/technipfmc-announces-1q19-results/
You might also like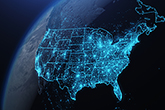 A Seapath and Pilot LNG joint venture will develop, construct, and operate a terminal in the Galveston Bay area supporting LNG-powered vessels.