---
On 9 July 2018, China's Ministry of Transport announced changes to the country's existing marine fuel regulations.
According to the new announcement, the emission control areas (ECAs) will be extended to along China's entire coastline from 2019. The 0.5 wt% sulfur content limit is expected to be applied to vessels sailing within 12 nautical miles of the coast, in addition to just berthing. The announcement also proposes tightening of the sulfur specification to less than 0.1 wt% sulfur from 2020. However, this is still being assessed and is subject for review later. This sulfur regulation is similar to that applied in European ECAs, where the limits have a wider coverage of up to 200 nautical miles from the coast.
Please find below some comments from Yujiao Lei, consultant, Wood Mackenzie:
The new regulations demonstrate the central government's strong commitment to fight pollution from mobile sources. Coming only days after the announcement of the country's 'blue sky defence' action plan, the extension of the ECAs is a clear sign that China will strive for 100% compliance when the IMO's global sulfur cap regulation starts in January 2020.
China is crucial to the world's shipping market for commodities and containers. In addition to international vessels calling at Chinese ports, there is also a large domestic flow of goods from the east of the country to its interior provinces through inland waterways. As such, the new regulations could be significant.
China's bunker fuel demand currently exceeds 650 kb/d, and is mainly fuel oil and marine diesel (MGO). Nearly two-thirds of it is used in inland waterways and the remainder in the coastal areas.
For inland waterways, nearly 300 kb/d of MGO is used as a bunker fuel, with varying sulfur levels. To combat this, the government announced last month a unified diesel specification (China VI or 0.001% wt% sulfur) for marine use in China starting January 2019.
In addition to MGO, about 100 kb/d of high-sulfur fuel oil (HSFO) is also consumed in the inland waterways. However, HSFO use in inland waters will no longer be allowed from 2019, unless the vessels are fitted with sulfur-reducing equipment, such as scrubbers.
As it is early days for scrubber adoption much ahead of the IMO sulfur cap, we see a demand shift of 100 kb/d from HSFO to China VI diesel. This should come as good news for Chinese refiners that receive higher prices for domestic diesel sales compared with exports. However, this also means higher shipping costs for consumers and industries, such as power plants and steel, if the additional freight cost is passed on as vessels switch from HSFO to expensive China VI diesel.
For sea zones, the ECA extension in 2019 will have minimal impact. Firstly, the majority of marine traffic is currently concentrated in the existing ECAs, so the extension is unlikely to significantly affect shipping or provide upside to bunker demand. However, shippers operating in the new ECA zones will have to make some changes, such as carrying dual fuels to comply with the regulation. Secondly, China's coastal ECAs only reach 12 nautical miles out to sea, and ships generally tend to slow down as they near the coast, so fuel consumption in these areas is minimal.
However, there will be more upside for diesel demand for the coastal areas later in 2020, when the IMO global sulfur cap takes effect. The Chinese government is making great effort to turn some major ports in to bunkering hubs by setting up free-trade zones in Zhoushan and Hainan, which are strategically located. As such, we expect 90 kb/d (around 5 million t) of bunker demand to shift from Singapore to China in 2020 for international shipping. By generating this demand, the Chinese government is not only creating a bunkering industry but also providing a solution for its refining industry's diesel surplus.
China's stricter policies for marine fuel specifications will undoubtedly play an important part in meeting the IMO global sulfur cap. Additional marine fuel demand in China to meet IMO regulations will also put the country very close to Singapore in terms of total marine fuel demand.
Read the article online at: https://www.lngindustry.com/liquid-natural-gas/24072018/chinas-ministry-of-transport-changes-marine-fuel-regulations/
You might also like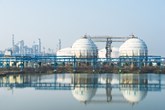 Accurate flow rate measurement during LNG liquefaction is essential. But how do you know if your flow meter can handle potential pressure drops, temperature changes, and the extreme conditions of the cryogenic process? Download Panametrics' new case study to learn how its flow meters can deliver extremely accurate LNG flow measurements.