---
Global imports of LNG will set a new record this year on the back of 7.2% growth, according to new research. A further surge in demand to 2030 will be driven by environmental measures in China, rising power generation in South and Southeast Asia, and a reduction in domestic gas production in Europe.
Global LNG Outlook 2018, the latest forecast from Bloomberg New Energy Finance (BNEF), shows that LNG demand will reach 305 million tpy this year, up from 285 million tpy in 2017. Although this represents a strong expansion, it will be down from the 9.6% rate seen between 2016 and 2017.
BNEF sees a slowing in the rate of LNG demand growth during 2019 – 2022, with demand stabilising in the 314 – 330 million tpy range, before a new acceleration during the 2020s. From 2023, imports will rise at a compound annual growth rate of 5% till 2030.
Ashish Sethia, global head of LNG analysis, said: "The growth rate in 2019 – 2022 will slow as the commissioning of new gas pipelines from Russia absorbs some of China's demand, and as more nuclear power comes online in Japan. Average utilisation of export plants in 2021, when supply capacity reaches its peak, will likely be 81%, which is low by historical standards."
The report highlights that FSRU technology will continue to unlock demand in new markets, particularly South and Southeast Asia. "In 2022 – 2023, South and Southeast Asia will become the main driver for the world's LNG imports, adding 11.7 – 13.6 million tpy of demand," commented Maggie Kuang, head of Asia-Pacific LNG analysis and lead author of the report.
"During 2018 – 20, European LNG imports are anticipated to grow faster than previously expected due to restrictions on production at the giant Groningen gas field in the Netherlands," stated John Twomey, head of European gas analysis. "In the long term, declines in Dutch and Norwegian gas production and retirement of coal capacity will push LNG imports over 104 million tpy by 2030, as Europe aims to keep its reliance on Russian pipeline gas under control," he added.
On the supply side, 30 – 33 million tpy of new capacity will be added around the world during 2018 – 20. Global capacity is forecast to peak at 396 million tpy in 2021 and will provide sufficient supply to markets until 2025.
Read the article online at: https://www.lngindustry.com/liquid-natural-gas/22032018/lng-trade-surge-sets-new-record/
You might also like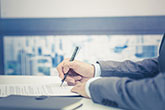 In its efforts to further boost natural gas utilisation in the country and enhance Nigeria's gas revenue, NNPC Ltd has signed two major agreements to deliver LNG to the domestic gas market and the international LNG market.