---
Dover has announced that it has completed the acquisition of Acme Cryogenics, Inc. (Acme) for US$295 million in cash, and that it has entered into a definitive agreement to acquire Engineered Controls International, LLC (RegO) for US$631 million in cash, subject to customary purchase price adjustments. Additionally, the RegO acquisition includes tax step-up benefits with a net present value of approximately US$35 million. Both businesses will become part of the OPW Global operating unit within Dover's fuelling Solutions segment.
Acme, established in 1969 and headquartered in Allentown, Pennsylvania, US, and RegO, established in 1918 and headquartered in Elon, North Carolina, US, are well-established and growing providers of highly-engineered, mission-critical components and services that facilitate the production, storage, and distribution of cryogenic gases used in a diverse set of applications. The businesses supply engineered components such as valves, regulators, vacuum jacketed piping, fittings, safety devices, LNG fuelling components, and other specialty flow control devices to blue chip customers from a variety of end-markets exposed to high secular growth trends. Acme employs approximately 205 people and is expected to generate approximately US$70 million in sales in full year 2021, and RegO employs approximately 725 people and is expected to generate approximately US$210 million in sales in full year 2021. Acme has generated double-digital average annual revenue growth (excluding impact of acquisitions) over 2018-2021, and RegO has delivered annualised growth in the high-single digits over the same period. Both businesses grew in 2020. The acquisitions are expected to be accretive to Dover's consolidated EBITDA margins, with additional significant synergy potential from leveraging Dover's operating scale and capabilities.
Acme's and RegO's products are highly complementary to Dover's existing clean energy solutions, and will enhance our offerings for the hydrogen (H2), LNG, and LPG"applications, as well as Dover's participation in the attractive cryogenic industrial gases end market. Upon closing of both acquisitions, the expanded clean energy applications within Fuelling Solutions are expected to generate over US$300 million in annual sales, including approximately US$100 million of sales from cryogenic gas applications.
Dover's President and Chief Executive Officer, Richard J. Tobin, said, "The acquisitions of Acme and RegO are the next step in our strategy to enhance the Fuelling Solutions portfolio with growing participation in clean fuels and other attractive adjacencies. On the back of our recent acquisition of LIQAL and our partnerships in electric vehicle charging, these two acquisitions will scale up our position as a leader in the growing clean and alternative fuel applications as investments in this space are rapidly accelerating. We are also excited to establish a position in an attractive cryogenic gas adjacency, which offers robust organic and inorganic growth prospects. The business models of Acme and RegO are a great fit for Dover, as their offerings mainly include components that are critical to performance, safety and compliance of larger systems, their go-to-market models are based on a mix of long-tenured loyal OEM, distribution and end-customer relationships, and their long-term success in the marketplace is driven by innovation, engineering, and manufacturing excellence. We are excited about the strong growth prospects of these strategic additions to our portfolio and our ability to drive significant value creation by leveraging Dover's operating scale and enterprise capabilities."
The RegO transaction, which is expected to close in 4Q21, is subject to the satisfaction of customary closing conditions, including applicable regulatory approvals. Both transactions are being funded through a combination of cash on hand, proceeds from recent divestitures and commercial paper.
Read the article online at: https://www.lngindustry.com/liquid-natural-gas/20122021/dover-announces-two-acquisitions-focused-on-clean-energy/
You might also like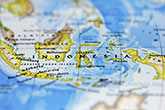 President Joko Widodo has officially inaugurated Tangguh Train 3 in Indonesia.