Titan LNG continues deliveries with COVID-19 coronavirus precautions in effect
Published by Will Owen, Editor
LNG Industry,
---
All LNG deliveries in North West Europe are to be continued by Titan LNG and its partners with precautions against COVID-19 in effect.
Titan LNG's company statement announcing the news read as follows:
At Titan LNG, the safety and health of our employees, partners, and clients are our main priority. Titan LNG thus supports the need to continue business operations amid ongoing epidemic outbreak prevention and control measures to ensure the return to a normal work rhythm as well as a healthy global economy as soon as possible.
Consequently, Titan LNG monitors and manages the COVID-19 situation based on plans and guidance related to pandemic preparedness, with the following guiding principles:
Consult and connect – close (daily) contact with stakeholders, key subcontractors and customers to evaluate the situation and align protocols where needed.
Implementation – all measures based on the Dutch National Institute for Public Health and Environment.
Social distancing – in full effect and updated some procedures to avoid face to face checklists to be completed in close contact with the authorities.
Supervision – close supervision on health of personal, subcontractors, clients, and on the availability of LNG transport equipment.
Currently there are no limitations on the loading of LNG from any of the terminals we load from and the transport companies contracted by Titan. We thank and support our supply chain partners for all the hard work over the last period: Donau AG, AMS, Nijman/Zeetank, Schenk Tanktransport, the Port of Rotterdam, and the Port of Amsterdam for taking and supporting the appropriate measures to continue to work safely and guarantee the delivery of LNG.
The good news is we are virtually working together and staying connected during these uncertain times to provide our clients and partners with the best possible customer support they may need. Our online platforms remain fully operational and we are ready to connect with you through all our channels.
Read the article online at: https://www.lngindustry.com/liquid-natural-gas/19032020/titan-lng-continues-deliveries-with-covid-19-coronavirus-precautions-in-effect/
You might also like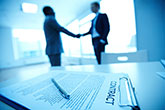 OMV has announced the signing of a long-term sale and purchase agreement with Cheniere Energy, Inc., covering the supply of up to 850 000 tpy of LNG beginning in late 2029.