---
Reuters is reporting that Britain has recorded its highest levels of LNG imports in March since October 2015. This has led to British wholesale gas prices dropping to a more than 18-month low.
LNG import quantities are reportedly on track to reach 1.18 million t in March, with 14 cargoes scheduled for delivery.
These imports reflect the wider global LNG trends of the day, with supply receiving a large boost, particularly from Russia and the US, and reduced demand in Asia leading to cargoes being diverted to Europe and elsewhere.
The impact of the increased LNG imports on British wholesale gas prices in Britain has been significant. In September gas process reached a peak of 80 pence per therm, now it is half that. This is contrary to the usual seasonal trend, where previously prices have tended to rise in the winter as gas use for heating spikes.
According to Reuters, day-ahead wholesale gas prices currently stand at 37.80 pence per therm, with six LNG vessels due to deliver cargoes to Britain's three import terminals in the near future.
Read the article online at: https://www.lngindustry.com/liquid-natural-gas/19032019/increased-british-lng-imports-drive-down-gas-prices/
You might also like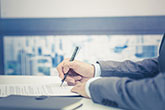 In its efforts to further boost natural gas utilisation in the country and enhance Nigeria's gas revenue, NNPC Ltd has signed two major agreements to deliver LNG to the domestic gas market and the international LNG market.