---
During the first half of 2018, Gasum signed a strategically important transaction and continues to take determined steps to advance its strategy.
Key financial indicators 1 January to 30 June 2018:
Revenue €597.5 million, up 18% year on year (H1/2017: €506.0 million).
Sales of Natural Gas business €455.7 million (€382.5 million).
Sales of LNG business €116.8 million (€98.5 million).
Sales of Biogas business €24.0 million (€24.1 million).
Operating profit €76.3 million (€65.9 million).
Gasum Group CEO Johanna Lamminen comments on the first half of 2018:
"Our Group's financial performance further improved in line with our expectations during H1. Our revenue was up 18% year on year at €597.5 million and our operating profit was €76.3 million for the period under review.
We signed a strategically important transaction to acquire the energy market services business of the energy industry expert company Enegia. This acquisition will strengthen our Nordic strategy by enabling service expansion in the energy wholesale market and will enable us to offer more comprehensive services to our current customers. The energy sector and gas market are changing rapidly and we want to lead the way in the energy sector. The transaction will also provide a platform for us to develop our product selection in the future by expanding our services geographically as well as by launching new services also in the gas market. The transaction is expected to complete in August 2018. We are continuing preparations for the opening up of the Finnish gas market from the beginning of 2020.
Gas-powered mobility showed further growth during the report period. Since the start of the year, almost 1400 more gas-fueled vehicles have been registered in Finland. The Finnish government has set a goal of a minimum of 50 000 gas-fueled vehicles in 2030 and at the current growth rate this can be achieved. We are responding to this continued growth in gas-fueled motoring by strengthening our gas filling station network with the opening of new stations in Salo, Vantaa, and Oulu.
The future emission reduction targets for heavy-duty vehicles set by the European Commission in May 2018 can be achieved by using [LNG] and [LBG]. We will particularly address expansion of the heavy-duty filling station network in the Nordic countries.
[LBG] offers an alternative also for industrial operators and maritime shipping to achieve their emissions targets. We delivered LBG for industrial use to Uddeholm, a Swedish manufacturer of tool steels, and for maritime transport use to fuel M/T Fure Vinga, which is owned by leading Swedish shipping company Furetank. We produced the LBG at our biogas facility in Lidköping, Sweden. LBG can be used directly in the same applications and processes as LNG. The role of gas as a low-emission fuel will increase and gas will further strengthen its position as a key source of energy during the coming decades.
Read the article online at: https://www.lngindustry.com/liquid-natural-gas/18072018/gasum-release-january-to-june-2018-report/
You might also like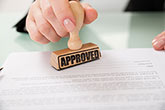 LNT Marine and Shanghai Merchant Ship Design and Research Institute have received approval in principle from ABS for the latest variant of their LNT A-BOX LNG containment system.