---
Nakilat has signed an agreement with McDermott to form a joint-venture (JV) company providing offshore and onshore fabrication services in Qatar. The strategic partnership aims at increasing productivity levels at Nakilat's world-class Erhama Bin Jaber Al Jalahma Shipyard and developing local construction capabilities to support the increasing demand for the construction of offshore and onshore structures in Qatar.
The agreement was signed in the attendance of His Excellency Saad Sherida Al-Kaabi, Minister of State for Energy Affairs, President & CEO of Qatar Petroleum, during the launch of the Tawteen program.
The establishment of the new joint venture is aligned with Qatar's newly launched localisation program, which is designed to enhance the resilience of the energy sector's supply chain. In addition, the program aims at creating new investment opportunities within the energy sector, which will significantly contribute to Qatar's economy.
This new joint-venture comes at a strategic time, with Qatar's ambition to localise its energy sector's supply chain and increase its LNG production from 77 to 110 million tpy in the coming years. This project will provide a range of new services that will support Nakilat and its joint ventures to undertake the construction, maintenance, repair and refurbishment of offshore and onshore structures, and all types of vessels.
The joint venture will be operated from Nakilat's shipyard in Ras Laffan Industrial City. With extensive fabrication areas and excellent facilities such as a 270 m construction hall and a 180 m assembly workshop featuring four bays, the venture will be able to service the growing demand for offshore and onshore modular construction locally in Qatar. In addition, the JV will be able to leverage on McDermott's renowned expertise in the field of onshore and offshore construction and Nakilat's wealth of experience in providing fabrication services to Qatar's oil and gas industry.
Remarking on the occasion, Nakilat Chief Executive Officer Engineer Abdullah Al-Sulaiti said, "We are proud to be partnering with McDermott, who are leaders in the field of EPCI projects, as part of our business diversification strategy and to better support the country's ambition to be one of the leading energy producers and exporters in the world. This venture comes as part of our strategy to diversify our portfolio, which will contribute towards the advancement of the Qatari economy and support the country's ambition to be the leading exporter of clean energy. On this note, I thank His Excellency Saad Sherida Al-Kaabi, Minister of State for Energy Affairs, President & CEO of Qatar Petroleum, for his continuous support towards the advancement of Nakilat and joint-ventures, as well as the strategic diversification of activities at the Erhama Bin Jaber Al Jalahma Shipyard."
Abdullah added: "The establishment of this new joint venture will allow for better productivity and efficiency to be achieved at the shipyard and in supporting the localisation and growth of Qatar's oil and gas industry. In addition, it will ensure the transfer of knowledge and expertise to the local workforce and contribute towards the creation of a sustainable talent pipeline in Qatar, in alignment with Qatar National Vision 2030. This will further complement our existing range of maritime services being offered as part of developing a local maritime hub, reinforcing our position as a global leader and provider of choice for energy transportation and maritime services."
"We are very pleased to see this joint venture come to fruition," said Linh Austin, McDermott Senior Vice President, Middle East and North Africa. "This extension of our longstanding relationship with Nakilat is a natural continuation of McDermott's history of successful project execution in Qatar and will enable both companies to utilise synergies and build on the combined strength of our respective organisations for the benefit of our customers."
Read the article online at: https://www.lngindustry.com/liquid-natural-gas/18022019/nakilat-and-mcdermott-join-forces/
You might also like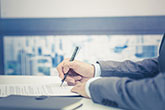 In its efforts to further boost natural gas utilisation in the country and enhance Nigeria's gas revenue, NNPC Ltd has signed two major agreements to deliver LNG to the domestic gas market and the international LNG market.