Latest 'India LNG Business and Market Outlook' report released
Published by Will Owen, Editor
LNG Industry,
---
The 'LNG Business and Market Outlook in India – 2019' report has been added to ResearchAndMarkets.com's offering. A summary of the report's findings can be found below.
Examining opportunities and future business potential for value chain players in India
As India reeling under the pressure to reduce carbon emission levels, Country announced to double the share of natural gas in the energy mix to 15% by 2022 which will witness a hike in imports and huge capital investments inflow for construction of LNG terminals in coming years.
The energy transformation is the key to diversification in energy supply, affordable and reliable energy access and, most importantly, energy security. India is on the path of energy transformation that is likely to solve the issues of accessibility of energy and related environmental issues. With this mind-set, India has planned to provide the thrust to improve the consumption of Natural Gas.
As India already reeling under the weight of growing consumption of crude oil and coal and their associated pollution levels, India proposed to maintain the balance in energy consumption pattern with the help of doubling the percentage of natural gas to 15% in the energy mix by 2022. Historically, India's natural gas consumption pattern has been on an upward trend since last 6 to 7 years. With limited natural gas reserves in India, the imports of natural gas which stood at 12.89 billion m3 in FY '11 has increased by more than two times to 26.33 billion m3 in FY '18 despite there being fewer LNG terminals.
Key highlights
Examining favourable cost dynamics in small scale LNG projects in India.
Analysing equity acquisition opportunity.
Identifying opportunity in recent contracts for value chain players.
Examining regasification tariffs and outlook.
Tracking opportunity for shipping and pipeline infra developers.
Evaluating region wise business case in the expansion of LNG terminal infra.
Report insights
Analysing LNG demand in India by current infra range and identifying the demand drivers.
Analysing LNG demand in India by planned future capacity range and identifying the demand drivers.
Identifying seasonal demand variance of LNG and the factors driving the same.
Impact analysis of LNG on city gas distribution.
Demand identification of LNG from passenger & transportation vehicle segment.
Evaluation of policy and regulatory landscape in LNG market.
Opportunity assessment for pipeline infrastructure developers and shipping segment.
The full report from ResearchAndMarkets can be found here.
Read the article online at: https://www.lngindustry.com/liquid-natural-gas/16042019/latest-india-lng-business-and-market-outlook-report-released/
You might also like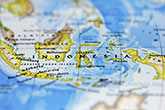 President Joko Widodo has officially inaugurated Tangguh Train 3 in Indonesia.